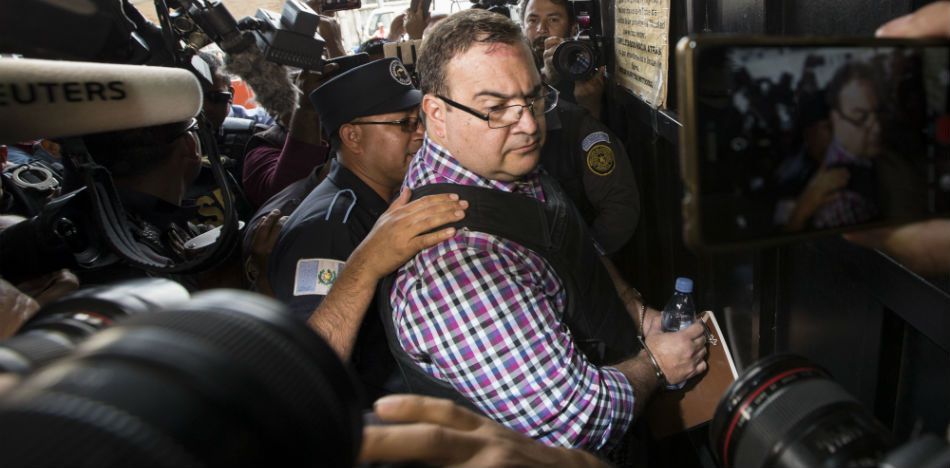 Former governor of the state of Veracruz, Javier Duarte, is under custody in Guatemala after being detained in that country last weekend after six months as a fugitive from Mexican justice. On Wednesday, in his first hearing in Guatemalan courts, the former official stated that he will not oppose being extradited to Mexico, but will wait for Mexican authorities to formalize the petition for that procedure.
Javier Duarte, who was notified by the Guatemalan prosecutor's office about the accusation against him, said: "I cannot approve my extradition until my defense evaluates the formal request, which has to arrive from Mexico."
Meanwhile, the prosecutor's office stated that:
During his term and in coordination with other people, [Duarte] created a complex operation scheme to move funds into the Mexican financial system and thus give them a legal appearance."
The former governor, who acknowledged before Judge Adan García that he entered Guatemalan territory six months ago, was reminded that he will not be tried in Guatemala and that the procedure was part of the claim for his extradition to Mexico.
On the other hand, the Office of the Attorney General of the Republic (PGR) reported that on Wednesday Javier Nava Soria was arrested in Spain, who is "linked to the investigations carried out by Mexican authorities in connection with the alleged network of operations with illicit funds" under former governor Javier Duarte's control.
This detention, as reported by the PGR, is the result of:
"An arrest warrant issued by the District Judge Specialized in the Accusatory Criminal System of the Federal Criminal Justice Center in Mexico City, residing in the northern prison for the crimes of operations with illicit funds and organized crime."
Javier Duarte's alleged accomplice was arrested "for purposes of extradition in the city of Cabrils, Barcelona" by agents of the General Directorate of Police of the Ministry of Interior of the Kingdom of Spain.
Nava Soria is among the people who collaborated with the former governor as shareholders, accountants, or legal representatives in order to misappropriate public resources and invest them in ghost companies.
Sources:El Economista, Animal Político