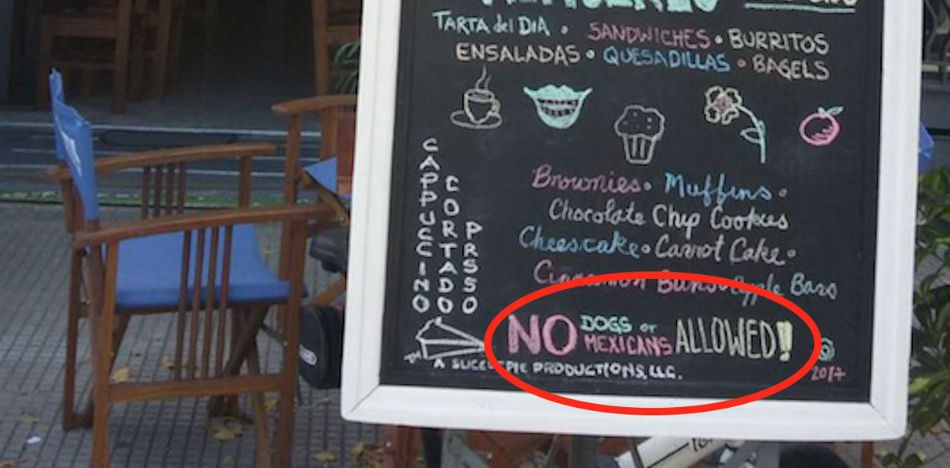 The Mexican embassy in Uruguay has protested a chalkboard in Montevideo where the phrase "no dogs or Mexicans allowed" an "unfortunate, deplorable, discriminatory, and racist attitude."
However, according to the owner of the establishment, this phrase alludes to an expression from the film "The Hateful Eight" by American director Quentin Tarantino.
The Mexican diplomatic mission sent a statement to the Foreign Minister of Uruguay, where they said that what happened was "regrettable and deplorable, racist, discriminatory and xenophobic."
The Mexican embassy also stated that it "strictly rejects the display in public spaces of a sign in which Mexican nationals are offended and discriminated against."
Inaceptable : cartel en cafe "no se permiten perros ni mexicanos". No es USA, es Pocitos. Propietario norteamericano. Discriminación pura. pic.twitter.com/SrZvLjxudH

— Rodrigo Arim (@RodrigoArim1) April 8, 2017
Tweet: Unacceptable: coffee shop sign "No dogs or Mexicans allowed." This is not the USA, it's Pocitos. American Owner. Pure discrimination.
The diplomats also appealed to the "respect and solidarity that has always prevailed between Mexico and Uruguay" and called on the Foreign Ministry of the South American country to demand that the business in question "immediately and definitively stop promoting denigrating attitudes contrary to values and principles of Uruguayan society."
On their Facebook page, the owners of the bar stated that it is a "great misunderstanding" since "in this particular case, the phrase is taken from the film 'The Hateful Eight' by Quentin Tarantino, which takes place in the middle of the 20th century. We understand that it may have been accidentally insulting, so it is necessary to clarify that we would never make this kind of statement seriously."
Also, the owners stated that "absolutely no one has ever been discriminated against in our establishment." Meanwhile, Montevideo Portal, a local media outlet, reported that the National Institute of Human Rights as well as the Ombudsman's Office of the Uruguayan capital initiated an investigation on Monday.
Source: El Universal