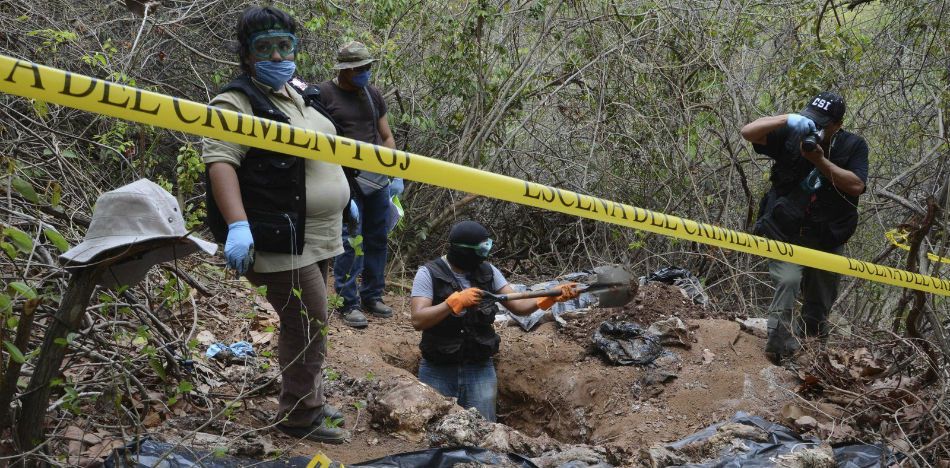 EspañolMore than 850 secret graves were found in Mexico between 2007 and 2o16, according to a new report.
The National Human Rights Commission (NHRC) released a new report that says 855 secret graves were discovered between those years, from which 1,548 bodies were unearthed.
The numbers come in response to multiple requests from local prosecutors from several Mexican states. Morelos, Nayarit, Sinaloa and Tamaulipas did not provide information, suggesting that the numbers in the report are even higher than it claims.
The state of Guerrero had the most secret mass graves, totaling 195. Nuevo Leon and Veracruz follow with 191. Zacatecas had 83, Coahuila reported 51 and Colima, 35.
Of the total of 1,548 corpses found in secret graves, 796 have been identified. The state of Veracruz has found 21,874 human remains.
A media survey conducted by the organization revealed that actual figures are different from those provided. It managed to count 1,143 secret graves, from which 3,230 bodies have been exhumed.
The NHRC also reported that between 2007 and 2016, 29,903 people were reported missing. Eighty-two percent of the missing persons cases are based mainly in 11 states, among which Tamaulipas has the highest number: 5,563 missing followed by the state of Mexico with 2,984 cases.
Source: Animal Político