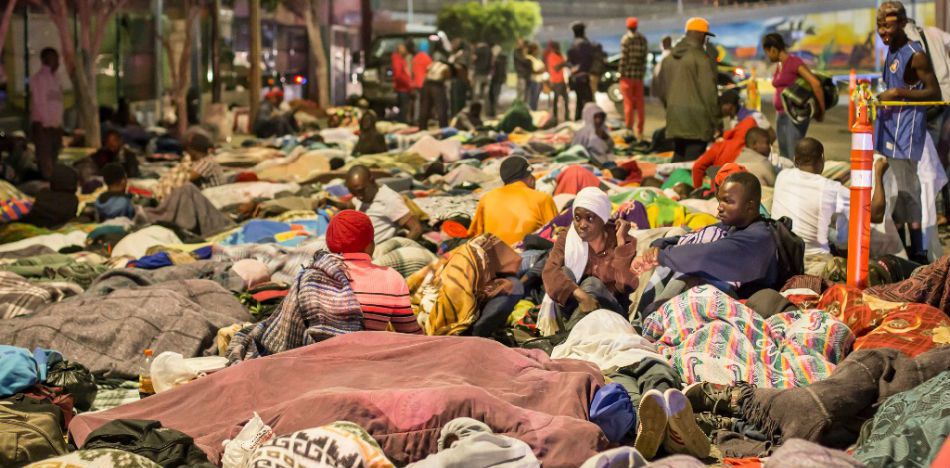 EspañolA group of Haitian immigrants have\ set up a colony in Tijuana, Mexico after being stranded for two months by United States immigration services.
Leaders of the Church Ambassadors of Jesus started to build a village known as "Little Haiti" while claiming asylum from their own country. The religious congregation requested the support of municipal authorities in finding a solution to sewage disposal in a channel nearby.
Their small houses are made of wood with metal bars, cement and blocks and will be located a few meters from the church attended by around 225 Haitians.
The settlement is hard to access — reachable by car only as close as 400 yards away, and requiring a hike the rest of the way — but residents are apparently happy with the settlement, carrying  water containers and other resources delivered through humanitarian assistance the entire way.
Mexico's National Immigration Institute has counted 3,700 Haitian and African immigrants residing in Baja California, of which only 131 Haitians have documented their immigration status in Mexico. Seventy-six of them have visitor cards for humanitarian issues and 55 are refugees.
Haitians who in this settlement survived the 2010 earthquake in their home country that saw 3,000 people killed and a million lost their homes.
The Mexican government will offer humanitarian and refugee visas to thousands of Haitian immigrants who are stranded on the border city of Tijuana waiting to obtain political asylum in the United States, according to María Sandoval de Zarco, a  lawyer working on the cases.
Source: Sin Embargo