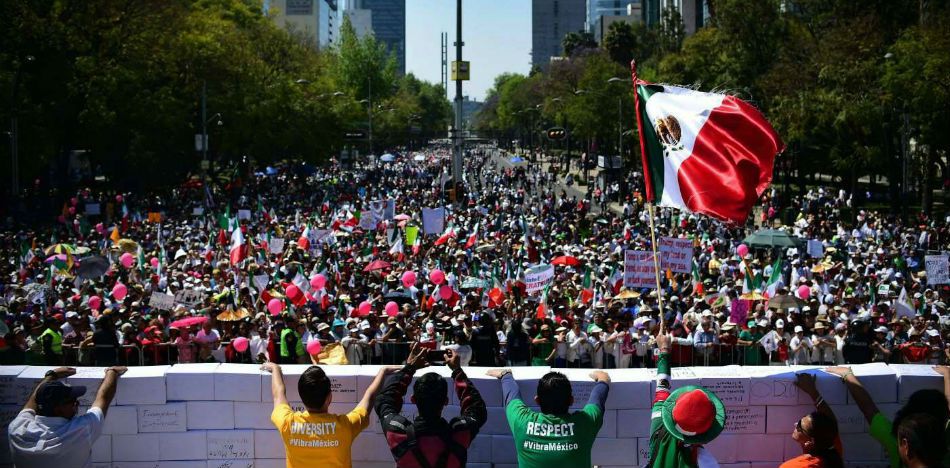 EspañolMore than 20,000 people in Mexico City participated in marches this weekend in protest of Trump's border wall.
Using slogans such as "No to the wall" and "Stop the deportations," the crowd gathered at the city's Independence Angel to reject the Republican's immigration policies.
According to protestors, the messages of the march were intended to protest against injustice, hatred, racism, intolerance, discrimination, xenophobia and the violation of human rights. They made a wall with paper blocks and demolished it as a symbolic message about Trump's border wall.
The demonstration was called "Mexico Vibrates," which was organized by 87 organizations including the National Autonomous University of Mexico (UNAM).
Though the protest was focused on Trump's policies, many protesters did not miss the opportunity to express their discontent with Mexico's own corruption and impunity.
UNAM Dean Enrique Graue, writer Ángeles Mastretta and Director of Mexican Transparency Eduardo Bohórquez joined the demonstration to protest recent Mexican policies. Director of CIDE Sergui López Ayllón and former Executive Secretary of the Inter-American Commission on Human Rights Emilio Ávarez Icaza were also reportedly in attendance.
Since the groups that organized the march did not agree on certain points, two marches were ultimately held.
"I do not think that the march should have been divided, but it happened," Graue said. "I believe that Mexico has many historical grievances: insecurity, corruption, inequality, impunity and the gasoline situation. It is not time to look at the past, it is time to look toward the future and send a message about sovereignty, strength and equality toward the neighboring country."
Mexican historian and author Enrique Krauze said that the protest was "against the absurdity, injustice and outrage that our countrymen in the United States and their families in Mexico are victims of this monster in the White House."
"I hope the world, Americans and Mexicans will become aware and help to peacefully remove that tyrant from the White House," he added.
US citizens who have made Mexico their country of residence also joined the march and expressed their disagreement with Donald Trump's policies, such as the construction of a border wall that in many cases affects the relatives of their partners of Mexican origin.
Source: El Universal