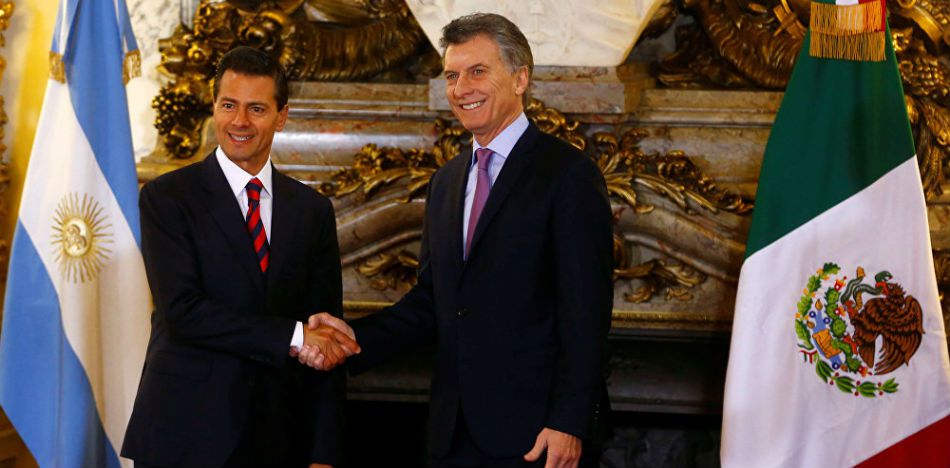 On Monday Mexico and Argentina's presidents had a telephone conversation in which Enrique Peña Nieto thanked his colleague Mauricio Macri for his solidarity with the Aztec nation and pointed out how important it is for Mexico to have a strong bilateral relationship with the South American nation.
The Foreign Affairs Secretary (SRE) indicated that Mauricio Macri called Peña Nieto to highlight both nations' strong relationship. During the conversation, the Argentine president expressed the solidarity that his country has with Mexico in view of the recent stance adopted by the American government since Donald Trump came to power.
Mexico's chancellery assured that the conversation between both presidents highlighted the positive features of the relationship, as well as the deepness of their ties.
The Mexican chancellery stated that, "They made reference to the commercial negotiations between both countries and confirmed their interest in continuing to negotiate a bilateral agreement that would allow them to deepen their ties and expand free trade."

The contradiction with Macri's anti-immigrant policies
While Argentina's president claims solidarity with Mexico in its immigration dispute with the United States, his administration has made it more difficult for people who intend to migrate to that South American country and has made it easier to deport illegal immigrants in Argentina.
Macri's executive order has been criticized, with opponents deeming it xenophobic, and comparing it to measures taken by President Donald Trump in the United States.
Patricia Bullrich, Security Minister, said that it was not true that a wall would be built between Bolivia and Argentina; while vice-president Gabriela Michetti indicated that their idea is the "opposite of Trump's". However, she later stated that it is a matter of "protectionism"; this idea was supported by Sergio Massa, leader of Frente Renovador (Renewing Front), who stated that "foreigners who commit crimes should be expelled".
This law will be published on Tuesday in the Official Bulletin. It will make the control of background checks stricter with the purpose of preventing the entry of terrorists into Argentina, as well as strengthening surveillance on the country's borders.
"Our problem with the border is not the people. We do not have a problem with immigration, we have a problem with drug trafficking and contraband", confirmed Bullrich, who also added, "the way to expel foreigners who enter quickly and commit crimes related to drug smuggling activities is the same as imprisoning an Argentinian who commits the same crime, quickly."
Vice-president Michetti stated that "it is important to distinguish between measures that are inherent to our security, while also remembering that Argentina is an open country that will always be in favor of diversity."
Sources: El Universal, Página 12