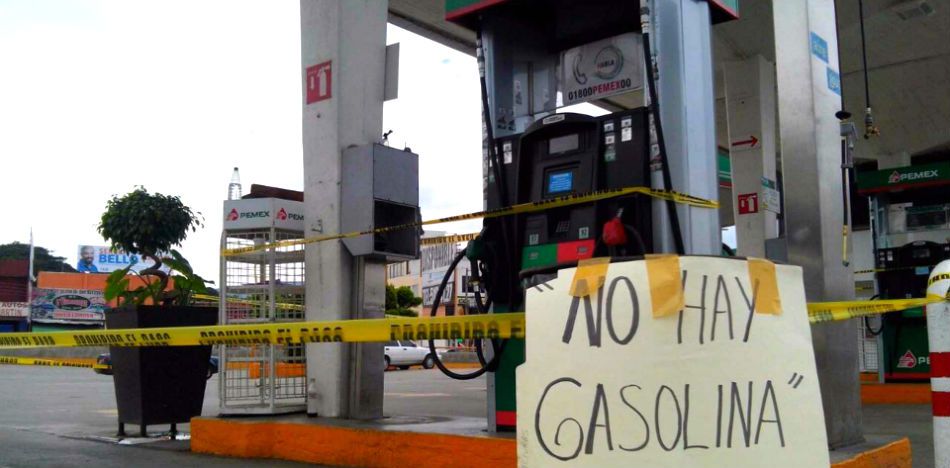 Español The shortage of gasoline in Mexico has worsened, as 15 states have now claimed to be without enough fuel to provide for consumer needs.
Petróleos Méxicanos (Pemex) has advised citizens not to make purchases in panic and also to collect fuel in containers.
In San Luis Potosi, at least 95 of the 110 service stations operating did not report sales because gasoline ran out, a situation that many owners of gas stations said is the worst outage in 60 years.
In Zacatecas, the shortage has already lasted eight consecutive days, while in Guanajuato long lines have been reported in cities like Leon. Only some service stations opened when they receive fuel from Pemex, which many drivers reportedly traveled hours to purchase.
Pemex asked the public not to buy or store fuels in unsuitable containers, both for safety and to avoid hoarding that complicates the process of balancing supply and demand.
Delay in delivery, or shortage?
Director of Pemex Transformación Industrial Carlos Murrieta Cummings said the situation is not a matter of scarcity, but rather of delays in distribution caused by multiple factors.
"We had to stop a pipeline for up to eight hours," he said. "We tried to reactivate the service as soon as possible and immediately start moving transport by truck or railroad."
Sources: Noticieros Televisa, Milenio