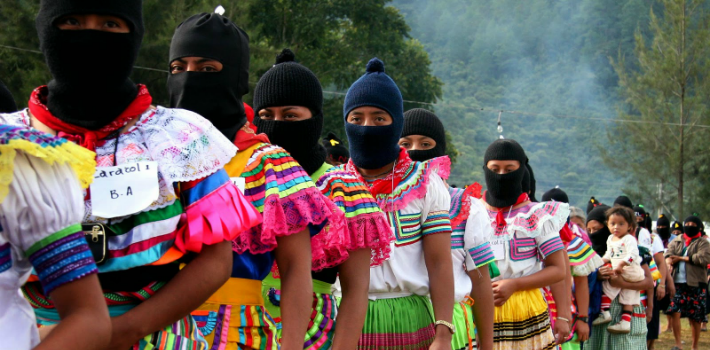 EspañolThe Zapatista Army of National Liberation (EZLN) has decided to put up an indigenous woman for the presidency in conjunction with the National Indigenous Congress (CNI).
Representatives from both the EZLN and the CNI said their goal is not to gain power, but rather to organize indigenous peoples and civil society so as to stop what they called the "destruction" caused by the Mexican government.
In a statement titled "Let the Earth's Center Tremble," EZLN and CNI said the objective of this foray into politics will be "in defense of the life of every person, every family, collective, community or neighborhood, to build peace now. … (It's) time for rebel dignity, to build a new nation; to strengthen power from below, the anti-capitalist left."
The decision was announced at the Fifth National Indigenous Congress.
They said that "the offensive against the people will not stop. It will grow until they have finished with the last trace of the people of the countryside and the city."

In the statement both EZLN and the CNI were called "carriers of deep discontent" of the emerging "new, diverse and creative forms of resistance and rebellion."
Though they said in the statement that the candidate would participate in the election as an independent, they assured that the nominee would run on behalf of the EZLN and CNI.
Source: El Universal