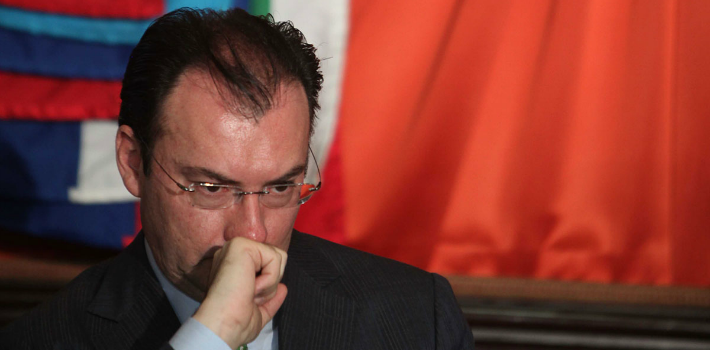 EspañolLuis Videgaray Caso has resigned from Mexico's Office of Finance and Public Credit, a spokesman announced Wednesday, September 7.
Caso will reportedly be replaced by Jose Antonio Meade, who served as Secretary of Social Development (SEDESOL).
The change was confirmed by President Enrique Peña Nieto in a message to the media from the official residence of Los Piños, where Meade was officially appointed as the new head of the SHCP.
"Dr. Luis Videgaray has presented me his resignation from the Secretary of Finance and Public Credit," Nieto said. "I want to fully acknowledge the work and results of Dr. Videgaray as head of that office."
The President highlighted some of the achievements of Videgaray Caso:
"A tax reform that has favored public finances and managed to lower oil dependence, expanding the number of contributors and strengthening the economy."
The resignation of Videgaray comes after the media blamed him for encouraging President Enrique Peña Nieto to invite U.S. Presidential Candidate Donald Trump to Mexico, which was was not well received by Mexican citizenship due to his plan to build a wall on the border to prevent immigration.
Videgaray's resignation means the return of Jose Antonio Meade, who served there September 2011 to November 2012 under the administration of Felipe Calderon.
From December 2012 to August 2015, he was Head of the Ministry of Foreign Affairs. Since August 2015, he had been in charge of the Department of Social Development.
Jose Antonio Meade holds a degree in Law from the National Autonomous University of Mexico (UNAM, 1995) and a BA in Economics from the Autonomous Technological Institute of Mexico (ITAM, 1993). He also has Doctoral studies in Economics with specialization in Public Finance and International Economics from Yale University.
Source: El Universal