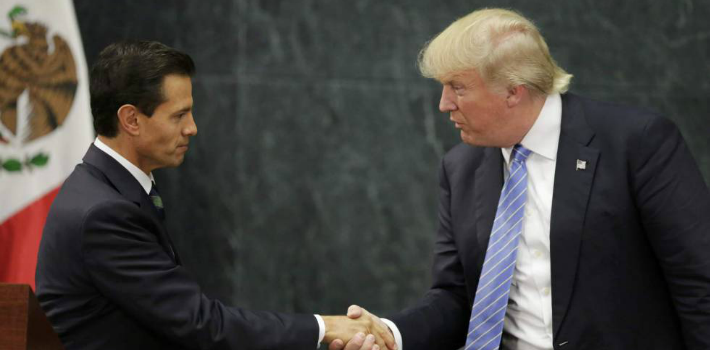 EspañolMexico's President Enrique Peña Nieto met with U.S. Republican Presidential Candidate Donald Trump this week to discuss immigration policy, and he did not like what he heard.
In an interview with Denise Maerker on Televisa, Mexico's President made his position clear.
"I say here today very clearly and very publicly, what the candidate Trump knows, I was emphatic in pointing out that Mexico would not pay in any way for the wall."
Trump, however, left the meeting with his own ideas, tweeting out what seemed to be his own conclusions about the borer wall.
Mexico will pay for the wall!

— Donald J. Trump (@realDonaldTrump) September 1, 2016
He went on to say that the policy ideas Trump has put forward represent a "threat" to the country.
"As President I have a unique responsibility, which is to care for Mexicans and fight for Mexico," he said. "Perhaps for the first time in the history of the electoral campaign in the United States, Mexico is part of the debate and there have been positions that quite frankly pose a threat and a danger to Mexico."
Al inicio de la conversación con Donald Trump dejé claro que México no pagará por el muro.

— Enrique Peña Nieto (@EPN) August 31, 2016
At the beginning of the conversation with Donald Trump I made it clear that Mexico won't pay for the wall
The Chief Executive felt the meeting allowed Trump to flip flop positions.
"I do appreciate a sudden change of tone, a recognition of the importance of Mexico, an interest in our working together on issues that are not only in the economy, but in security and ensuring the safety of the North American region."
Nieto said there was a distinct change in tone and vision on various subjects during the meeting, including the cancelation of the North American Free Trade Agreement.
"Imagine what would happen if he repealed NAFTA, which generates millions of jobs in Mexico for exports and what we produce here," Nieto said.
Nieto said the meeting hasn't resolved any positions Trump had about Mexico, but said it was a good first step toward something constructive both economically and in security matters.
Source: El Universal, Noticieros Televisa