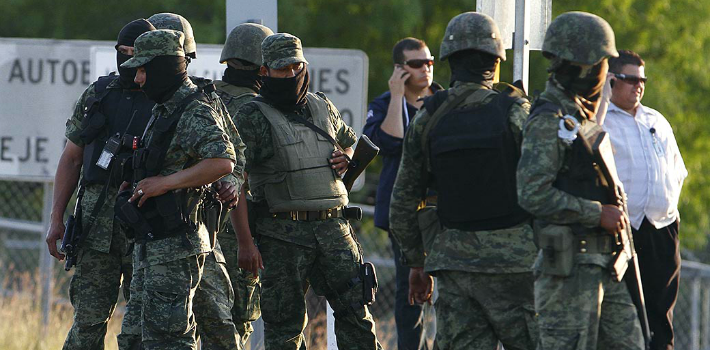 The Peace Index underlines how expensive and inefficient militarization has been in Mexico (Diario TE)
EspañolIn Mexico there was an increase of 1,000 murders related to the internal conflict this year, putting the country in the same classification as Iraq, Syria, Nigeria and Afghanistan.
The Institute for Economics and Peace and the Business for Peace Global Compact Initiative released their 2016 Global Peace Index (GPI) this Tuesday, revealing these shocking numbers.
According to the document, during in 2013 and 2014, Mexico experienced an "explosion of violence" caused by the war on drugs. Over 30,000 people died as a result — slightly less than the total number of deaths from terrorist acts in the world.
The index measured 23 indicators of internal and external conflict, citizen security and militarization to calculate the levels of peace in 163 countries, including Mexico, which landed at 140. In the region of Central America and the Caribbean, Mexico is in last place due to a "increased military presence and security forces and increasing displaced people by drug war violence."
Mexico was ranked 65 in the 2015 Positive Peace Index, meaning that it has a greater potential to cope with the challenges of reducing violence if approached with positive attitudes and institutions.
Mexico is one of the 30 countries with the highest economic impact of violence. According to the Peace Index Mexico, it made up 13 percent of gross domestic product (GDP) in 2015.
Globally, the 2016 IPG indicated that the average peace by country decreased 0.53 percent compared to the previous year, which is the largest decline in the past six years.
Among the countries surveyed, Iceland is the most peaceful in the world, followed by Denmark and Austria. Meanwhile, Syria is the least peaceful, followed by South Sudan, Iraq, Afghanistan and Somalia. Countries that showed greater progress in terms of peace were Panama, Thailand and Sri Lanka.
According to the monthly report of high-impact crimes by the Citizen National Observatory (ONC), the murder rate in Mexico has increased in May — the highest figure for one month since 2012 at 1,746 homicides. Most of these were related to firearms.
The ONC annual rate forecast is expected to grow 3.23 percent compared to 2015, as published in its Balance Security of the Government of the Republic Report.
The report, using data from the Executive Secretariat of the National Public Security System (SESNSP), noted that regions that counted on the presence or reinforcement of military or police forces have maintained higher rates of homicide than the national average.
Sources: El Universal, Milenio, Animal Político