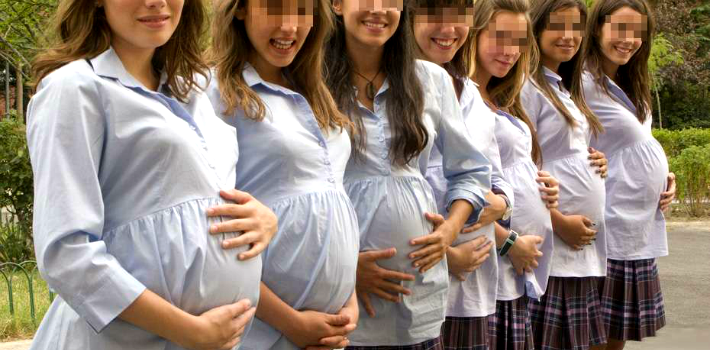 EspañolControversy has surrounded the sterilization of children and adolescents in Mexico, whose abortion and rape laws have created problems for those involved.
A young woman named Atziri said she was raped, but hid the resulting pregnancy for three months until finally coming out to her grandmother, who then treated her like an adult preparing for motherhood. Though Atziri was legally eligible to terminate the fetus at any time because she was under 14 years old, she said hospital officials at the Teen Pregnancy Clinic Hospital Civil de Guadalajara never offered her that option.
The Federal government has expressed both special interest and concern for pregnancies related to cases of sexual abuse and the increased risk of death for mothers.
"We have girls who are 18 years old and have had be to operated on because it was their third cesarean section," said Head of the Center for Adolescent Pregnant Care for Civil Hospital Hiliana Romo Huerta. "The risk is high …we have girls with up to four cesareans."
In the state of Jalisco, three cases of girls aged 10 to 14 were on birth control called Bilateral Tubal Occlusion (BTO). In the past three years, surgery for permanent contraception in adolescents aged 15 to 19 years amounted to 1,134 in Jalisco, according to the report conducted by the Journal NTR.
"Many times they go to health institutions, but because of their age or because they were not married, they are unwilling to provide the girls the services they need," said Marisol Martínez Escudero of the Information Group on Reproductive Choice.
During the launch of the National Strategy to Prevent Teen Pregnancy, there were 11,300 girls aged 10 to 14 years old that became pregnant, many of whom had to interrupt the pregnancy.
In 2030, the country will seek to eradicate pregnancy in girls of that age and halve the fertility rate in young women aged 15 to 19 years.
Atziri is in the sixth grade now, learning how to breathe and reduce pain when the time of birth arrives.
Sources: El Nuevo Herald, El Diario NTR