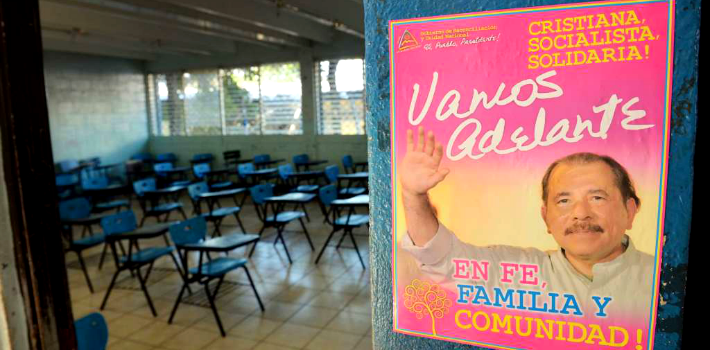 EspañolNicaraguan opposition called on citizens this week to ignore the legitimacy of the elections on November 6, and to abstain from voting because it would be "a travesty" to allow the re-election of President Daniel Ortega to what could be considered a 'dynastic dictatorship.'"
"We are proclaiming the absolute invalidity of these fraudulent elections and demand genuine elections," the National Coalition for Democracy said in a statement read by leader Violeta Granera during a news conference.
"(This election) will only help to strengthen a dynastic dictatorship," she said.
The opposition, previously grouped in the Independent Liberal Party, was told in June of its exclusion from the next elections. The decision was made by a judiciary controlled by the ruling party.
The President has also ruled out inviting foreign election monitors, who he labeled as "scoundrels."
"We call each Nicaraguan patriotic citizen to reject (…) this electoral farce," Granera said, "by use of our right to abstain."
The opposition also said they will be rejecting the notion that certain people are "pressured to attend" the elections.
The opposition announced it will organize demonstrations, though admitted it will only be successful if citizens are able to overcome their fear of expressing themselves in public.
"People do not want to take to the streets because they know they will be repressed and do not want to face that violence," former challenger Luis Callejas told AFP.
The conference was attended by dissident Sandinista politicians and the 28 deputies who were dismissed on July 29 from their positions.
Presidential and legislative elections in November will be contested by the FSLN, five right-wing parties and one indigenous party linked to the ruling regime.
According to a recent survey by M&R, Ortega enjoys the sympathy of 79.3 percent of Nicaraguans and his wife, of 72.7 percent.
Bishop urged not to support "electoral farce" in Nicaragua
While the bishop of the Roman Catholic Diocese of Matagalpa Rolando Alvarez Lagos described the current electoral process as a "disaster" and criticized the lack of electoral campaigns, the Archbishop of Managua Cardinal Leopoldo Brenes called for a "serious and responsible campaign."
"I personally feel these elections are a disaster," he said on Nicaraguan radio. "We are four months from the elections and there is no election campaign."
Bishop Alvarez also said the current electoral process is so unserious "that according to surveys, more than 80 percent of the population does not know the candidates of parties who call themselves the opposition."
"Here all we know is who the candidates of the ruling party are, and we already know that the candidates of the ruling party are spouses; it is a married couple: the husband and wife, which is something only seen in Nicaragua."
Source: El Mundo