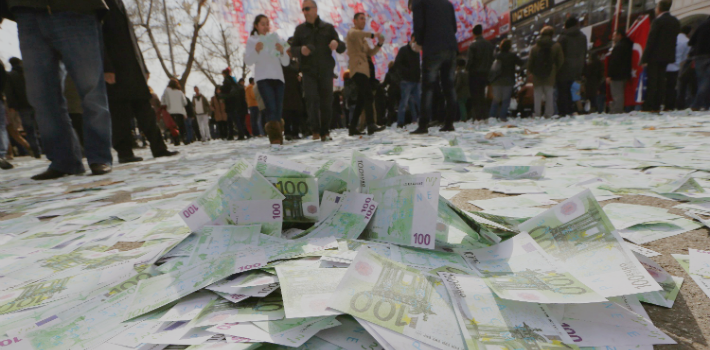 EspañolThe Mexican peso fell to a historic low Friday after the UK voted to abandon the European Union.
It dipped to 19.5225 per dollar, shortly after midnight local time — a 7.15 percent dip from the 18.22 per dollar from last Thursday.
The peso had fallen over 10 percent this year, regained some ground and was in 19.09 per american dollar — a 4.77 percent drop — before Brexit.
After the referendum results came out in the UK, the exchange jumped to a new height of 19.55 pesos per dollar. Such movement implies a 7.25 depreciation, the biggest since the bankruptcy of Lehman Brothers in October 2008.
This dip in the Mexican currency rivals the greatest ones in recent history incuding the "December mistake" of 1994 when the peso plummeted 17 percent in just two days of Ernesto Zedillo's rule.
Probably the most remembered devaluation came in 1981, when José López Portillo, who said he would "defend the peso like a dog," was forced to enter a payment moratorium that devaluated the currency from 27 to 38 pesos per dollar.
In that moment, the government decided to bring public spending down by raising interest rates. In his last government report, he accused bankers of creating the crisis.
After the exit of López Portillo, the six years of Miguel de la Madrid saw inflation problems and attempts to reduce national debts that took the exchange rate to the uncanny 2,300 persos per dollar.
Source: El Universal