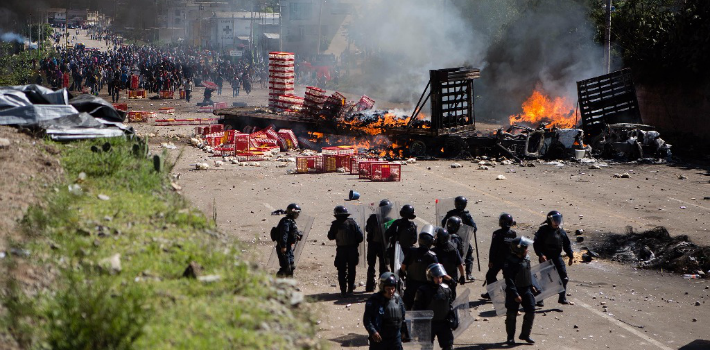 EspañolSix people died Sunday, June 19 in Mexico near Nochixtlán, in the state of Oaxaca, after several confrontations between federal and state police with teachers and supporters of the National Coordination of Education Workers (CNTE).
An operation was deployed in the morning to free up traffic on the Oaxaca-Puebla highway, which resulted in a fight.
The clash between civilians and uniformed officials lasted for five hours, during which time countless of shots were fired.
Spokesperson for the CNTE Eligio Hernández blamed authorities for the six deaths.
"What we have confirmed this about at least two of the deaths is this: Andrés Aguiar Sanabria, 23, and Yalid Jiménez Santiago, 28, were killed by police bullets. They were using firearms to repress us," he said during a press conference in Mexico City.
Later, after the confrontation spread to the Huitzo and San Pablo Etla communities, the spokesperson said Óscar Nicolás Santiago, 22, died, as did Anselmo Cruz Aquino and Jesús Cadena, 19.
There were an additional 108 injured.
Accompanied by the Governor of Oaxaca, the Commissioner of the Federal Police Gabino Cué admitted that a group of federal agents used their guns during the event.
He argued that they used their weapons once they became aware that the protesters were also using fire arms.
Cué said they requested the support of Federal Police for dislodging blocks of people sympathizing with the teacher movement, such as el Frente Amplio de Lucha Popular and the Oaxaca Council for the Defense of Human Rights, which was led by Flavio Sosa.
Denying use of firearms, 21 federal police officers injured
To date, 21 federal police officers have been reported as injured from the confrontation with the CNTE in Nochixtlán, Oaxaca, three by firearms, according to the National Security Commission (CNS).
In a press release, the CNS said that Federal Police did not use firearms nor batons during the clash, though images published by international news outlets show otherwise.
The press release also stressed that members of the Federal Police that participated in the event were not armed nor were they carrying batons.
Para evitar que derechos de terceros sean vulnerados la Policía Federal sin armas, esta actuando en Oaxaca para permitir el libre tránsito

— CNS México (@CNSeguridadmx) June 19, 2016
"In that sense, it has been determined that aggression by use of firearms was done by someone other than our team. Those people took shots against our federal police officers," the release said.
Officials said the images that show federal police officers responding to the protest with fire arms are "totally false and do not correspond with the facts."
#Oaxaca Detonaciones por arma de fuego provienen de personas ajenas a los bloqueos, quienes realizan disparos contra población y autoridades

— Policía Federal Mx (@PoliciaFedMx) June 19, 2016
CNS added they have requested an investigation by the government into the incident so as to determine who exactly was responsible for the deaths.