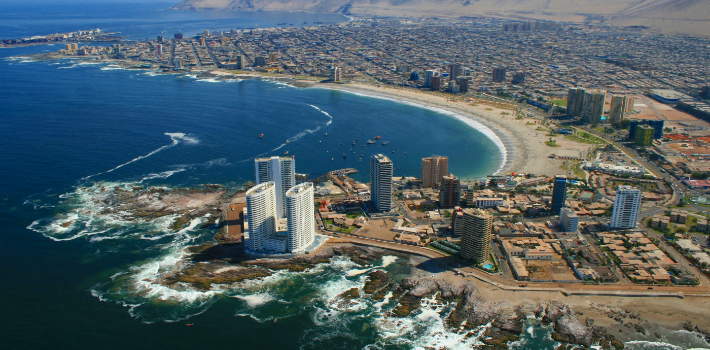 EspañolLatin America is, in 2016, more peaceful than last year, with a decline in internal tension and instability in some countries, according to Visions of Humanity. Its report, developed by the Institute for Economics and Peace (IEP), has taken into account national and international conflict, security and militarization of 163 countries.
In the case of Latin America, the IEP detected improvements in security in Central America and the Caribbean. Costa Rica, for example, ranked 33 in part because of lower levels of militarization.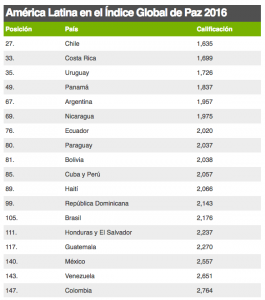 South America registered improvements in its general ranking since 2015, thanks to lower levels of international conflict and militarization in the region.
However, the index also reflects significant social unrest in countries like Venezuela — situated at 143 — as well as Brazil, who came in at 105, where political instability increased months before the Summer Olympics in Río de Janeiro. The country had a 15-percent increase in instability, according to the report, as well as deterioration in the rate of incarcerations — a "worrying trend" before the big event, according to the institute.
The country in South America rated the most peaceful was, once again, Chile, who came in at 27. Uruguay came in at 35, while Panamá was positioned at 49. Panamá registered some of the most noticeable improvements of the whole index, having jumped 24 spots since last year's ranking of 49. This was partly due to the reduction of the "probability of violent demonstrations" and the country's "diminishing political instability."
Argentina ranked 67 this year, after Togo and in front of Mozambique, while Nicaragua, Ecuador, Paraguay and Bolivia came in at 69, 76, 80 and 81, respectively.
Cuba and Perú, according to the report, tied at 85. The Dominican Republic, at 99, tied with Papúa New Guinea.
Latin American countries with the lowest peace ranking include: Honduras and El Salvador at 111, Guatemala at 117, México at 140, Venezuela at 143 and Colombia at 147.