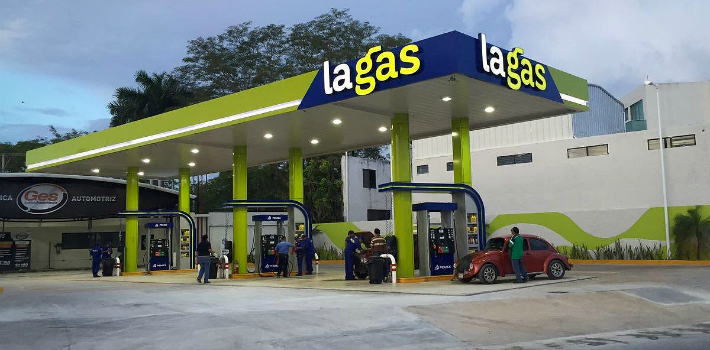 Español"La Gas" is what most Mexicans colloquially call the gas station closest to their house. Now a group of Mexican entrepreneurs want to turn that slang into a brand.
The businessmen plan to leave behind Pemex to position themselves as the first 100-percent Mexican gasoline brand.
Corpo Gas, Grupo Enerkon, Hidrosina, LodemoRed and Corporativo GES teamed up to create the first franchise of service stations in Mexico, located in the southeast part of the country.
General Director of LodemoRed — and now La Gas — Emilio Loret de Mola explained at a press conference that the gasoline market is open for competition more than people think. He started first with branding, then focused on quality of service, followed by pricing, which will be announced December 13, 2017.
"Having our own brand allows the consumer to differentiate between suppliers, like Pemex," he said. "And choosing if and where to go to refill your gas."
La Gas spent three years preparing for this announcement. Today, it operates two stations in Campeche and Mérida and 25 franchises in Yucatán, Campeche and Quintana Roo, which will be changed in the coming days.
Though for the moment, the company is based in the southeast part of the country, they plan to make it to Mexico City soon.
Similar to other gasoline companies, La Gas plans to improve its client experience by offering complementary service at the car window. Also, new means of payment, convenience stores and loyalty cards.
Loret de Mola said La Gas will announce a partnership with Pemex this week, which is intended to boost both brands.
"For us, Pemex is still a strategic ally," Loret de Mola said.
Imported fuel shipments to Mexico began in April, and at the start of 2018, the price of diesel and petrol will be subject to the free market.
The plan for Pemex to support the new brands will be tested through 16 gasoline groups for the next six months in Mexico City, Tijuana and Mérida.
Twenty percent of each group's service station will participate in the tests, but will only be open to those groups that have a network of at least 30 stations in the region.