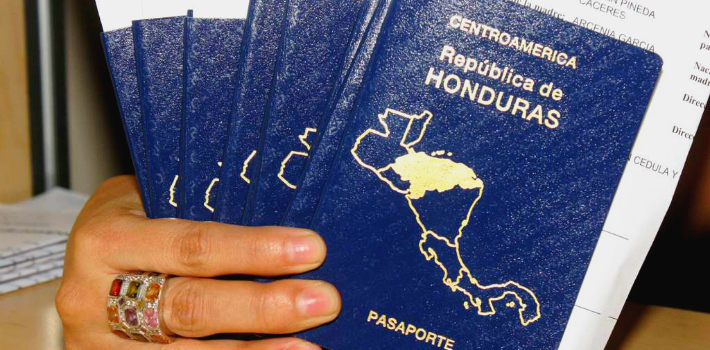 EspañolAn exhaustive analysis done by the Washington Examiner has revealed that people from the Middle East are obtaining Honduran passports to enter the United States.
Last week, the Honduran newspaper La Prensa published an investigation into Syrians, Palestinians and Lebanese people who are obtaining passports through contacts at consulates and in Honduras' National Registry of Persons (RNP).
"Syrians, Palestinians and other Arab people are buying Honduran passports and identities that make them eligible to enter the United States with tourist visas, opening up a whole new door to possible terrorists and refugees that are looking for easy passage. According to La Prensa, the Registry of Honduras confirmed fraudulent registration of Palestinians, Syrians and others," The Washington Examiner wrote.
The paper's analysis comes in midst of other data showing how Cubans and other people from Latin America enter the United States legally and illegally.
"Honduras is one of the three countries in the region supplying tens of thousands of unaccompanied minors flooding the U.S. border with Mexico. … the case identified by La Prensa is case is only the tip of the iceberg of an organized crime network with international ties to smugglers and (Honduran) officials, who were able to illegally register at least one hundred Palestinians and Syrians with fraudulent documentation."
To date, intervention took place in three RNP regional centers en which the birth certificates were supposedly issues. An RNO official was suspended as a result.

2014 Investigation
In October 2014, Palestinian citizen Kareen Samer Abdulhadi Abdulhadi, 38, arrived at the Honduran consulate in Barcelona with official documentation from the RNP and requested they issue him a passport under the condition that he was a "Honduran by birth."
However, the language and suspicious date of birth raised questions.
Immediately, officials proceeded to search through the RNP information base to confirm that the birth certificate and identity card numbers were inconsistent with the registry's official information. That is, it didn't exist.
That same October-6 day, diplomatic headquarters sent an email to RNP authorities in Tegucigalpa requesting certification of a foreigner at the consulate.
Officials were then able to identify an unauthorized intrusion in the database that had altered the birth records in a way that had allowed the person to obtain documentation.
Sources: Washington Examiner, Center for Inmmigration Studies, La Prensa.