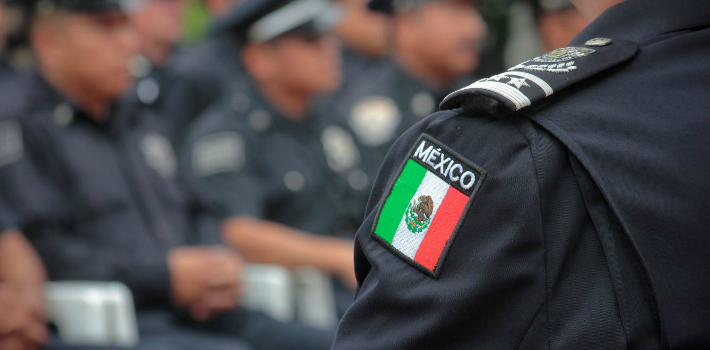 EspañolThe Mexican Police have one of the lowest rankings in the world for performance and effective service, according to the 2016 World Police and Internal Security Index. The organization placed Mexico in the 118th position out of 127 countries that were evaluated.
The diagnosis made by the International Association of Police Sciences uses four main areas of a police force: capacity, process, legitimacy and results.
Mexico scored an overall rating of .394, which ranked below Sierra Leone, Honduras, Zambia, Liberia, Tanzania, Guatemala, Guinea, and Nicaragua.
Mexico only surpassed nine countries, including Venezuela, Cameroon, Bangladesh, Mozambique, Pakistan, Uganda, and Nigeria.
Topping the list, in descending order, were Singapore, Finland, Denmark, Austria, Germany and Australia.
Latin American Police Forces Lag Behind
In Latin America, Uruguay ranked the best, followed by Chile. Mexico and Venezuela were the worst, according to the study.
The study noted that Mexico has doubled in size over the last 30 years. There are currently 333,000 state and municipal police officers, and more than 40,000 federal police officers.
Mexico received its lowest evaluation in the "legitimacy" area, with a score of .264 points — 125 out of 127 — with only The Congo and Pakistan ranking worse.
The index, which doesn't differentiate between state-, local- or federal-level officers, also measured the "legitimacy" area based on indicators such as due process and confidence level.
"Legitimacy is a measure for how much the public sees security providers, including the police, from a favorable perspective," the study said.
To evaluate legitimacy, the Institute for Economics and Peace enlisted help from the United Nations Office on Drugs and Crime, the World Justice Project and the Gallup World Poll.
"With a high score on legitimacy, a country is unlikely to experience civil unrest caused by dissatisfaction with security forces," the study said, "while a low score indicates that such satisfaction is a significant risk factor, even when the security forces are adequately and effectively equipped."
Despite Mexico's low ranking, North America along with Europe were the regions that received the highest scores. One conclusion made by the index was that "full democracies" tended to score higher.
Source: Univisión.