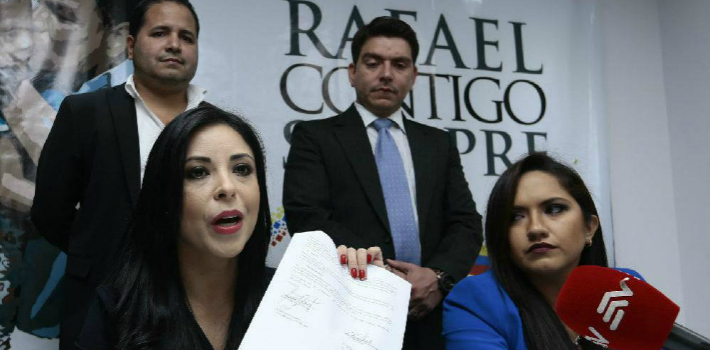 EspañolThe Constitutional Court of Ecuador approved a request from the "Rafael With You Forever" group that would allow a referendum to ask Ecuadorians if they want to repeal a constitutional provision preventing current-President Rafael Correa from running for reelection in 2017.
According to Pamela Aguirre, a member of the group, the most important thing was that the court recognize that it was "not violating any rights and, in this case, the court has decided that there exists an application of those rights."
The court approved "the referendum request to eliminate the transitory provision that prevents people from running for reelection in 2017."
Aguirre explained that the Constitutional Court resolved the case April 13 and uploaded the decision to the internet that Friday, but she learned about the decision through the press because she had been busy helping giving aid to those affected by the earthquake.
"The court decided that our request adhered to this country's laws, and didn't change constitutional elements of the state … and that validates our ability to proceed with the referendum," she said.
Correa not ruling out candidacy 
In December 2015, The National Assembly of Ecuador approved several constitutional amendments, including one that allows indefinite re-election to positions up for popular election, but which included a provision excluding 2017, which would have prevented Correa's re-election in that year.
At the start of the process in search of a referendum, Aguirre commented that the provision included amendments that discriminated against valuable candidates that are necessary for political change and who will help maintain all that we have achieved during Rafael Correa's time in office."
The President said he plans on moving to Belgium with his family at the end of his term, but has not ruled out returning to Ecuador to serve in politics should his country require it.
Correa has been in power since 2007, and said he feels he has confidence in the political movement he has started even he is not the candidate to keep it going.
Now the request for a referendum will be sent to the National Electoral Council for signatures. It must also collect 900,000 signatures, which represents eight percent of registered voters.
Sources: La Hora, El Telégrafo.