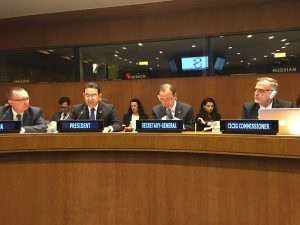 EspañolThe president of Guatemala, Jimmy Morales, requested an extension to the lifespan of the International Commission Against Impunity in Guatemala (CICIG) for two extra years during his visit to the United Nations on Monday, April 18.
The mandate had already been extended through 2017 per the request last year by then President Otto Pérez Molina. This new request would extend CICIG through 2019.
CICIG began operating in 2007 to dismantle corruption within the Guatemalan government and was instrumental to the uncovering of a tax-evasion scheme that eventually led to the resignation of Pérez Molina, his Vice President Roxana Baldetti, and other senior Guatemalan officials in 2015.
Both Pérez Molina and Roxana Baldetti are currently facing trial for corruption and embezzlement charges.
[adrotate group="8″]Morales traveled to the United States on Saturday, April 16, for a week-long tour, and is scheduled to attend the General Assembly's Special Session at the United Nations concerning drug trade problems.
Later, he will attend the ratification of the Paris Agreement on climate change approved in December 2015.
At the UN meeting Monday, April 18, Morales was accompanied by CICIG Head Iván Velásquez and Guatemala's Attorney General Thelma Aldana, who also support extending the presence of the UN-backed institution.
Source: Prensa Libre.