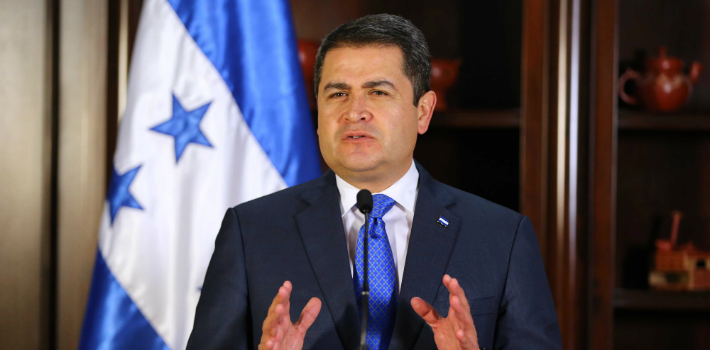 EspañolOn Thursday, April 14, Honduras' supreme court ratified a resolution that will allow for reelection, Spokesman of the Tegucigalpa Judiciary Melvin Duarte said.
The Supreme Court Constitutional Chamber agreed to endorse a ruling that disables three articles of the constitution prohibiting presidential reelection in the country, Duarte told reporters.
He said the supreme court confirmed its April 13, 2015 judgement that two applications for annulment filed by the Liberty and Refoundation Party were "inadmissible"
On April 24, 2015, the court established presidential reelection in Honduras. But then-judge José Elmer Lizardo changed his mind and announced that he would be withdrawing his signature to instead issue a dissenting opinion.
That same chamber replied on April 22 to a request from former President Rafael Callejas and 16 congressman from the National and Democratic Unification Party, to make way for presidential reelection in any form.
The judiciary has indicated that the Honduras Parliament must define whether the election will be direct or alternating, for which it requires a qualified majority vote of 86 of 128 deputies in the legislature.
For who would vote you for presidential reelection in #Honduras: Flores, Zelaya, Maduro or Hernandez? pic.twitter.com/S8lngSBbl8
– Jaqueline Redondo (@JackyRedondo) April 14, 2016
The Honduras constitution, dating back to 1982, does not allow reelection under any form, but the issue was revived in recent months by former Presidents Manuel Zelaya — ousted in June 2009 — and Rafael Callejas of the National Party,.
[adrotate group="8″]
Callejas, who was president of Honduras between 1990 and 1994, recently pleaded guilty before a US judge to having committed acts of corruption during his time as head of Honduras Football Association.
Zelaya was ousted in June 2009 while promoting a referendum to amend the constitution with the aim of enabling reelection, despite having legal impediments.
President Juan Orlando Hernández has argued that only the Honduran people can ask for reelection by modifying the Constitution. He has not specified whether he aspires to lead the country again.
Source: La Vanguardia