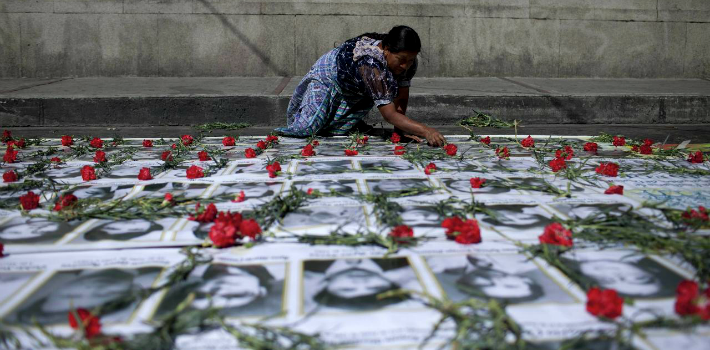 EspañolEven though Guatemala's civil war ended almost 20 years ago, it is still the subject of much controversy and animosity. The United Nations International Commission against Impunity in Guatemala (CICIG) has been the latest actor stirring up this dark episode by prosecuting army officers for alleged war crimes.
The PanAm Post talked with Ricardo Méndez Ruíz, president of the Foundation against Terrorism, about these claims. Méndez Ruíz was kidnapped by the insurgent guerrilla during the Efraín Ríos Montt administration (1982-1983).
What is your take on the arrest of former Guatemalan army officers for their alleged involvement in genocide during the civil war?
It's important to point out what the goal of these arrests really is. Initially, we thought it came down to ideological vengeance or just vengeance against those who defeated the Guatemalan extreme left in the civil war. But with time we realized their true motivation: to profit from the millions of dollars in reparations that can be obtained mainly through rulings by the Inter American Court on Human Rights (IACHR).
To this date, some US$120 million in reparations have been paid in Guatemala to alleged civil war victims and their relatives. The worst of all is that this money ends up not in the hands of those supposed to benefit from the reparations, largely very poor peasants. Rather, the money ends up in the hands of shameless middle-men.
This makes up an extremely complex network of human-rights activists who are in many cases the offspring of terrorists, or simply people who suddenly realized that demanding reparations can be a lucrative business.
Do you think the CICIG plays a positive role in Guatemala?
CICIG is an entity created under the shadow of the United Nations. I say under the shadow because it operates with a certain informality: it is neither supervised by the UN, the Guatemalan government, nor the Organization of American States. It's above the Guatemalan Constitution and it enjoys complete immunity, which means impunity. This organization, whose scope of action is perfectly defined, is the one responsible for the arrests of these army officers.
These arrests amount to a serious violation of the principle of legality, because [the CICIG] has exceeded its powers and intervened in affairs related to the civil war. Over a decade ago, when the creation of the CICIG was being discussed in Guatemala, it was decided that the civil war would be beyond its reach. However, they are now meddling in this issue, ignoring their legally defined limits.
Behind all this there is still a vile, dirty business of corruption. Money is behind it.
Going back in history, do you think the Ríos Montt administration committed genocide or not?
Your very question suggests that the alleged genocide in Guatemala is an important historical issue. The fact that its existence is under discussion implies that it does not exist. It cannot be that a crime so terrible, so egregious, comparable to an earthquake, raises doubts.
No such thing occurred in Guatemala. The war was extremely tough, it lasted 36 years. The peak of violence was between 1979 and 1984. Yes, there were excesses in both camps. Massacres of the Marxist army with high body counts are well recorded and documented. They did happen, but those did not amount to genocide.
A key piece in this entire puzzle is former Attorney General Claudia Paz y Paz. Even though she is no longer a Guatemalan prosecutor, she still exerts influence indirectly because several of her close aides still work in the Public Prosecutors' Office, while others migrated to the CICIG. Some of them are now top officials in the Interior Ministry.
Now that you mention Paz y Paz, do you think she's pursuing the same strategy in Mexico with the investigation of the Ayotzinapa student massacre?
I'm absolutely sure that is the case. Paz y Paz's specialty is scapegoating and not finding those truly responsible. That is what she did in Guatemala. If an ideological issue is at stake, as I believe the Ayotzinapa investigation is, then she is surely doing in Mexico what she knows best, fabricating the guilty.
Has the guerrilla changed their strategy in Guatemala?
[adrotate group="7″]They have said themselves that they morphed from insurgency to NGOs. That is, they have become a network of extreme left-wing organizations that manipulate justice, reparations, and profit from the polarization in Guatemala. This results in foreign investment going elsewhere, because subversive groups keep undermining development in Guatemala.
Is the situation of Guatemala comparable to that of Colombia, now undergoing a peace process?
A couple of years ago, some Colombian army officers came to Guatemala to learn about the mistakes committed here during the peace accords. Unfortunately, they talked to the wrong people, such as General Balconi Turcios, who has openly demonstrated sympathy with the guerrilla.
I see Colombia heading toward a similar crisis. The Colombian president is pushing for a deal, and when the peace agreement is signed, it will leave the armed forces defenseless. Trials against the military will undoubtedly begin.
Colombians must know that those who are leading the confrontation in Guatemala today are not, for the most part, people who took part in the civil war. They are opportunistic groups who found a gold mine in suing the military.