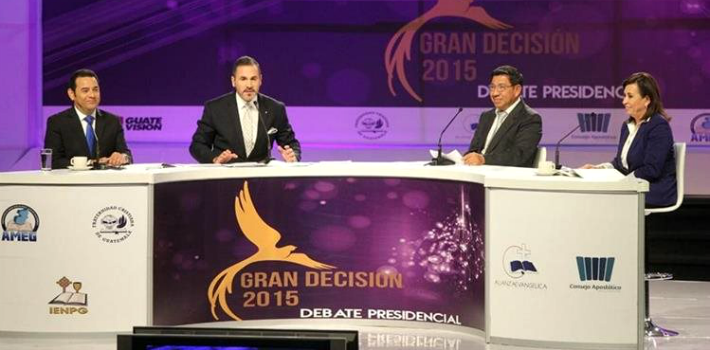 EspañolGuatemala's presidential hopefuls Sandra Torres and Jimmy Morales had an opportunity to engage in the battle of ideas one last time last night, but each played it safe and kept his cards close to the chest.
The October 22 "Great Decision 2015" debate, an event sponsored by the Evangelical Alliance in Guatemala and the ProPatria League, saw a dynamic mix of prepared questions and others collected live over social media. The candidates, though, did not reciprocate with any new proposals or shake up the campaign trail.
Aside from the often vague explanations from the candidates, Torres and Morales chose not to confront one another. Thus, media outlets in attendance, such as Guatevisión, characterized it as a "discussion forum," in which the candidates merely presented their ideas, as opposed to a true debate.
Given the religious nature of one of the sponsors, each candidate was also careful to stick to the side of traditionalism; both pronounced a negative stance towards legalizing abortion and state-sanctioned gay marriage.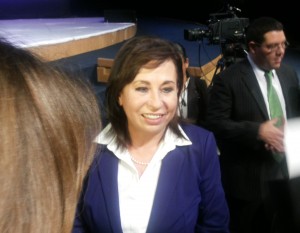 The PanAm Post asked Sandra Torres to comment on her difficult position, with polling figures showing Jimmy Morales 35 points ahead. "We respect those results," she said, "but we do not accept them. We will see true results on Sunday."
Morales concurred: "those are polls; we have to wait until the elections on October 25. However, I am confident that these voter intentions are an indicator of what the Guatemalan people want. I have faith that this will be the reality, but I don't consider it a done deal."
On how to deal with the drug war and the effects it inflicts on Guatemala, El Salvador, and Honduras, Sandra Torres said she proposes: "a direct war on drug trafficking" since it is one of the causes of violence in the region, adding that "in the previous government confiscations declined; this should strengthen relations with the United States and the rest of the countries in the region."
Further, she stated that "it's important to highlight that drug trafficking is a direct response to consumers," and subsequently noted concern over the presence of small-scale drug dealers in Guatemala, and that the form of payment has changed from currency to bartering for other drugs. When asked about legalization policies, she emphasized: "We do not support this; we will combat drug trafficking."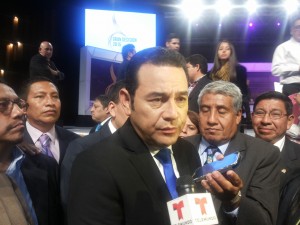 When posed with the same question on the war on drugs, Jimmy Morales replied: "Drug trafficking is a worldwide threat, so we cannot approach this topic from a strictly national view. This requires strategies at a regional scale; this is why we have approached the Central American Integration System (SICA) to collaborate on security efforts."
Regarding inability of the Guatemalan armed forces to address this situation, he said: "We don't have an air force; we have helicopters, but they are out of commission … Our budget is not sufficient, and this is why we need to create strategic alliances."
When asked whether he thinks his inexperience in politics might be detrimental to his proposed administration, he responded: "We have to find a starting point for change in this country. If this means starting from the top down, great. If we continue the way we have been going, we'll see the same kind of results."
About selecting government officials, were he to come out ahead on Sunday, Morales highlighted that he would require people who are recognized for their integrity. Further, he added that his chosen ministers would be selected with an eye on results, which "can't be achieved by waving a magic wand. But we can work towards boosting the citizenry's morale by improving conditions for taxpayers."
The new politician concluded by calling on the population to commit to solving Guatemala's problems.
"I have expressed my commitment to improving education, but every Guatemalan head of household should commit to keeping his children in school, even if food is scarce at home. A child who stays in school will achieve better development and increase his or her own opportunity for success."
As the event concluded, a seemingly weary Sandra Torres left the premises, leaving Jimmy Morales and his supporters in the limelight of the press.
Translated by Vanessa Arita. Fergus Hodgson contributed to this article.