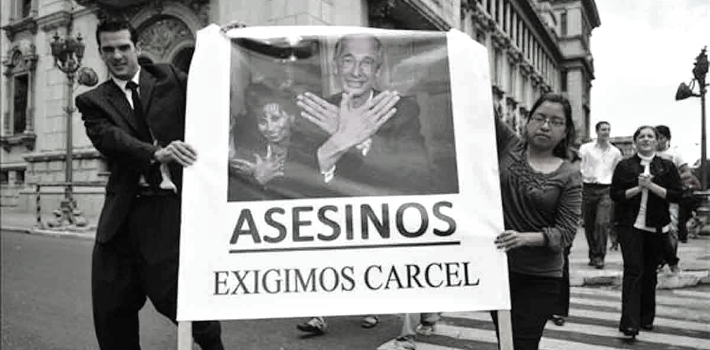 EspañolSadly, if you are watching this video, it's because I've been murdered by President Álvaro Colom.… The reason I am dead is because I served as a lawyer for Khalil Musa and his daughter Marjorie, who were both savagely murdered by President Colom as well.
These were Rodrigo Rosenberg's words that, in 2009, shook a nation already ravaged by corruption and impunity.
If you want an example of manipulation and misrepresentation, look no further than the investigation conducted by the International Commission against Impunity in Guatemala (CICIG) on Rosenberg's death. The documentary I Will Be Murdered is an attempt to validate and applaud the CICIG's conclusion: Rosenberg plotted his own murder.
Directed by British journalist and filmmaker Justin Webster, it tells the story of Rodrigo Rosenberg Marzano's shocking announcement to his funeral attendees that the Colom administration had him killed.
I chose to take a closer look at I Will Be Murdered for two reasons: First, Sandra Torres, who is now running for president in Guatemala, was among the officials that the late Rosenberg criticized before his death. She was also President Colom's wife at the time, and an influential figure in her husband's administration, unlike any other first lady in Guatemala's democratic history.
The second reason is the animosity many Guatemalans have toward the CICIG. How the UN-backed commission handled Rosenberg's case was a major point of contention during former commissioner Carlos Castresana's administration.
The documentary's high-quality direction, production, and storytelling was a pleasant surprise. It strategically guides the viewer through the series of events before, during, and after Rosenberg's mysterious death, featuring Eduardo Rosenberg, the attorney's son, and Carlos Castresana as narrators.
The director does a great job of dealing with touchy subjects. In fact, the director even handles the film's violent scenes with sophistication. However, this goes down the drain as soon as Carlos Castresana proudly defends the CICIG investigation and its highly dubious conclusion that the victim plotted his own murder.
This theory, which became the official story, not only tosses aside Rosenberg's accusations against the president, the first lady, Gustavo Alejos, and other government officials, it also mocks the public's hope for justice, and what could have been a turning point in Guatemalan history.
I saw Rosenberg's video once more before watching the documentary. It's surprising how, five years later, his words still resonate, especially after Guatemalans have forced Otto Pérez Molina to resign, and with the ruling class still feeling the effects of the public's widespread rejection of corruption.
[adrotate group="8″]
This makes me wonder: could this have been precisely what Álvaro Colom, and the others Rosenberg, accused feared? What darker interests, other than those denounced by Rosenberg, could there have been for the CICIG to change the course of the investigation in such an absurd manner?
"Nobody will believe this," is what Castresana says he thought after the CICIG concluded that Rosenberg had staged his own murder to destabilize Colom's administration. And, of course, nobody did; that's the shadow now looming over Sandra Torres, who has faced other accusations of murder, and under equally mysterious circumstances.
I Will Be Murdered is a snapshot of the impunity that reigns in Latin America, where political and financial interests carry more weight than justice and truth. Rodrigo Rosenberg's demands are valid to this day, not only in Guatemala, but in every country where corruption is the norm.
I would like to thank the film's creators for reminding us of the brand of politics that people in Latin America no longer want.