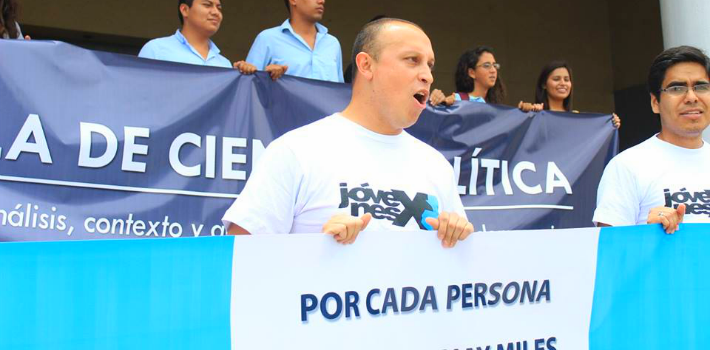 EspañolThe resignations of Guatemala's former Vice President Roxana Badetti and President Otto Pérez Molina have drawn international attention to the small Central American nation.
Both local and international media have praised the peaceful nature of the process, and the surprisingly high voter turnout in the September 6 election.
One of the many civil-society organizations leading the charge in Guatemala's shifting political landscape is Jóvenes por Guatemala (Youth for Guatemala). Pedro Cruz, the group's general coordinator, sat down with the PanAm Post to explain the changes Guatemala is experiencing and what we can expect after the elections.
Why has the Guatemalan youth taken such a leading role in the protests?
It's very important to stress that today's generation has come up without having lived through the Guatemalan Civil War, since the Peace Accords were signed in 1996. Those of us who were born in the 1980s and 1990s are now more actively engaged, and we did not live through that situation, so we're not afraid to go out into the streets.
We are living during a time that is quite different from what our parents or grandparents had to go through. They experienced a great deal of repression and persecution; many people back then who dared to demonstrate for or against an issue got killed. But things are different now. We've experienced a rebirth, and we're living through a democratic spring.
[adrotate group="8″]
What was the key to uniting Guatemalans and bringing about change peacefully?
The struggle against corruption became a common cause because it's not a matter of ideology. It's a problem that affects all Guatemalans. Since it carries no ideological baggage, every individual has been able to participate in a peaceful setting from their own political camp.
How does your organization rate the recent election?
It was a great example to the world: voting can be a form of protest. The turnout was unprecedented, over 70 percent, which hasn't happened since Guatemala's return to democracy. Everyone who told us not to vote, that it was not the right time, has been proven wrong.
Could these participation rates stay the same or even increase in the second round?
They could grow, because we are coming to the realization that the more we participate in the effort to build up our country, the more say we will have in decision-making and in ensuring the authorities do their jobs.
How should we interpret the public's "no" to Manuel Baldizón and "yes" to Jimmy Morales?
The Baldizón phenomenon is a clear indication of the public's rejection of networks involved in corruption. Jimmy Morales has managed to capitalize on the public's dissatisfaction with the political class, since this this is his first time running for president. The people see him as someone different.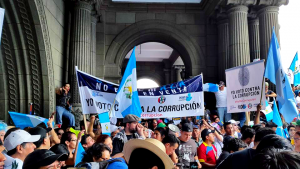 What is the status of the alleged electoral fraud reported on election day?
The Special Prosecutor's Office for Electoral Offenses is making a great effort. It's important to realize that in these elections, the citizenry is recovering its trust in the Public Ministry. The clearest example is that in previous elections, there were just barely 100 complaints; people did not trust the Public Ministry. This time there were thousands, which shows that citizens feel empowered.
In the October election, should Jimmy Morales and Sandra Torres make any changes?
Whoever is better able to articulate popular discontent and make strategic alliances will win the runoff.
What are the challenges for the next president in January 2016?
The main one will be to recover Guatemalans' trust in state institutions, ministers, and in the presidency, which have completely lost it. If this isn't a priority, it will be very difficult to lead a country in light of such strong popular discontent.
What will Guatemalans demand next of the Public Ministry and the International Commission against Impunity in Guatemala (CICIG)?
To continue dismantling criminal structures embedded in the state system. It is also important to continue the probes into the financing of political parties.
What else is necessary to transform the current system?
Congress needs to be cleansed, since that is where the country is really run from, often holding back urgent reforms and important laws. It is also the origin of illicit dealings that oftentimes lead to the corruption of mayors, ministers, and citizens who choose to make a business out of politics.
What would you tell young Latin Americans who wish to bring about change in their own countries?
Develop clear convictions, so that you can inspire more people to set differences aside and unite to peacefully achieve meaningful change.