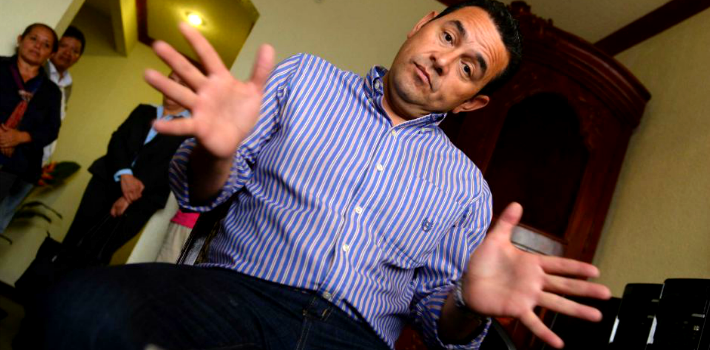 EspañolGuatemala has taken the world by surprise in recent weeks. After the public peacefully ousted President Otto Pérez Molina from office, they selected a political outsider, Jimmy Morales, in the first round of the presidential election.
Morales, who rose to fame as a television comedian, secured 23 percent of the vote on September 6, leaving journalists, analysts, and most others who dared to predict what would come next in Guatemala scratching their heads.
While Morales lacks the traditional background of a politician, he is set to square off against former First Lady Sandra Torres, who narrowly edged out controversial candidate Manuel Baldizón.
Aside from his work as a comedic actor, Morales holds a degree in business administration, and he combined this expertise with a passion for scenic arts, founding several companies in Guatemala and abroad. However, he is perhaps still best known for his work on the television series Moralejas (Morals).
In recent years, Morales obtained a master's degree in strategic studies with a focus in security and defense, another in mass media management, and a doctoral degree in strategic security. Clearly, he is a versatile and resourceful individual.
Back when Baldizón comfortably led the polls in the few weeks prior to election day, no one could have predicted that Morales would eventually climb to the top of the pack. The sudden downfall of Pérez Molina, however, drove Guatemalans to opt for someone who untainted by traditional politics.
Morales found himself at the right place at the right time. He had no political baggage, and introduced himself as "neither corrupt nor a crook" during his campaign. Instead, Guatemalans remember him as someone who made them laugh and encouraged them to pursue their dreams.
"Morales brings together dissatisfied voters that haven't found any other alternative," journalism professor Pedro Trujillo said of the comedian. "If blank votes counted as valid, it's likely that the people would have chosen this option. However, like in many other countries, blank votes are useless, and so the citizens' effort goes to waste."
"People decided to vote for Morales because he represents the complete opposite of the system. This explains why someone considered an underdog ended up winning the first round," he added.
Guatemalan voters have sent a clear message as to what they expect in the future: no more power-hungry politicians and corruption. Instead, they want forward-thinking leaders who they can trust to usher in fresh ideas.
[adrotate group="8″]
Voters seem to have equated Morales's lack of political experience with a lack of malicious intent. They see him as someone willing to do things differently to achieve different results, as opposed to traditional politicians whose actions have typically resulted in poverty, under-development, lack of opportunities, and impunity.
Undoubtedly, this shift in the political landscape coupled with the "Jimmy Morales phenomenon" has changed Guatemalan politics.
"From now on, politicians will be more aware than ever of citizens who will be constantly monitoring them," Trujillo says. "People have realized that if you want something and you fight for it, you can achieve unimaginable results. The situation has produced a new social contract between citizens and politicians, whereby politicians will be under much more scrutiny. Nothing will be the same again."
As for who will be Guatemala's next president, the question remains to be answered. What is certain is that Guatemalan politics has taken a radical turn thanks to the public.
Guatemalans understand what they want, and they will demand it from their next leader.
The next president must realize that transparency, dialogue, and good judgement are essential tools to lead Guatemala's transformation.