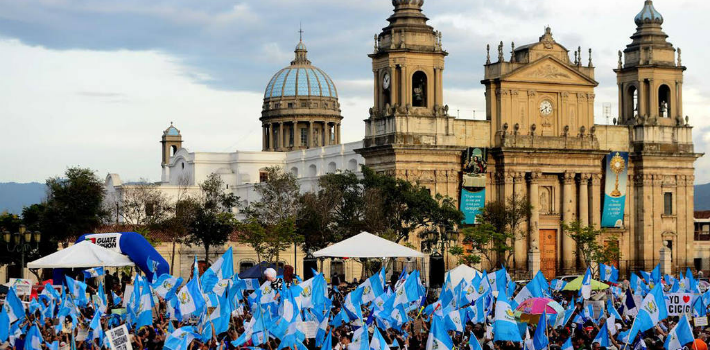 EspañolGuatemala has experienced a unique turn of events over the last few weeks, which foreigners will likely seek to replicate elsewhere. Following months of demonstrations over a corruption scandal, President Otto Pérez Molina voluntarily stepped aside and resigned from his position.
The PanAm Post sat down with Pedro Trujillo, director of the Institute of Political Studies and International Relations (EPRI) at Francisco Marroquín University, for an explanation of what opened the door for this peaceful political transition and its impact on the nation.
What has changed in Guatemala in the wake of the resignation of President Pérez Molina?
It has changed everything. Before his resignation the country didn't move; it was like a flat electroencephalogram. We had 15 murders every day, if not more; over 200 deaths of drivers every year, if not more; kidnappings, gang violence, an economic crisis, and nothing was moving. Between April and Thursday [September 3], when the president handed over the reins, the country and her future changed.
What new attitudes have been at play?
This is a revolution. It's like the Russian, the French, or the Mexican revolutions, but in the 21st century, when no revolution has taken place throughout the Western world. And as with any revolution, it requires the coincidence of various factors: the number one being the youth. The old people saw how we changed from a dictatorship to a democracy, but we didn't know how to change democracy to an effective democracy. That is what the youth have accomplished.
In second place, social media and new technologies do things at a speed that those of us who are not millennials cannot understand.
In third place, a new International Commission against Impunity in Guatemala (CICIG). For nine years we didn't experience any good results, until a new commissioner arrived and attacked the main problem. He didn't get distracted with organized crime and drug trafficking; the real problem in this country was corruption.
How was Guatemala able to be distinct in Latin America and provide an example of peace? 
That is the golden question. The French Revolution guillotined people, the Russian Revolution killed 20 million, and the Mexican Revolution was an armed one. This is a new development, because when the president was being taken to the court, Guatemalans were having lunch. It gives me goosebumps.
The public were under the effect of anesthesia. They sighed and said "at last," and then went on to have lunch instead of killing each other. The demonstrations provided a relief for the soul and spirits of Guatemalans, who had already transitioned from thinking with their hearts to thinking with their heads. On the other hand, this is not a violent society, but there is a lot of violence among a society that comes from an armed conflict. The best medicine is to go from conflict to peace.
All of this deserves its own doctoral thesis.
[adrotate group="8″]
How do the events place Guatemala before the international community?
Guatemala, being a small country with lots of social and economic challenges, gave a lesson to the world, and especially to the not-so-developed countries in Latin America. We had corruption, authoritarianism, unchecked power, and a lack of justice. These factors are not special to this country, but suddenly 15 million different people agreed to do things peacefully, rationally, and with no lynchings.
What is in store for the new president?

He will need to address internal challenges. We haven't discussed the economy for the past year, so we will need to fix this if we want to continue to progress. On the other hand, security is still a problem here, as is poverty.
The incoming president won't have it easy; he will have to be forthright. I believe a social covenant will be established; he will have to be transparent and propose achievable goals.
What role can Guatemalans play at this juncture? 
The citizen should be interested in politics, because it is not the exclusive domain of politicians. My own fate can only be decided by one person: me. But I must recognize the importance and impact of those who live alongside me, and the need to work with them. To do this one must be full-time citizen.
If politicians are going to raise taxes, I must understand this and see how to restrain them. If they are going to appoint judges, I must know why, how, and when — and whether I ought to protest.
What I cannot say is "I vote, and they do." We have done that, and there was a disconnect in which some understood democracy as mere formal participation, as opposed to an active one where the politicians feel controlled and the citizens empowered.