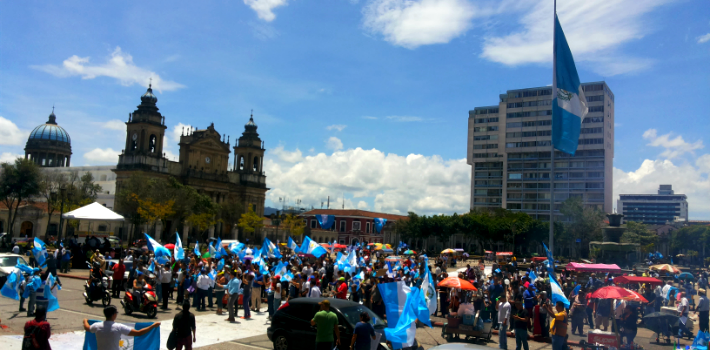 EspañolFollowing months of protests demanding the impeachment of Otto Pérez Molina, Guatemalans awoke on Thursday to the news that the president had resigned.
Since April, thousands have gathered in Guatemala City's main square, Constitution Plaza, to demand Pérez Molina step down amid allegations of his involvement in a customs-fraud scheme known as "La Línea" (the Line). On early Thursday morning, citizens filled the plaza once again, this time in celebration, chanting "Guate! Guate!" and "Yes, we did it!"
"From all the harm that Otto Pérez Molina caused Guatemala, something good came out of it. This country stood up for a new and better democracy," María Isabel González tells the PanAm Post from her wheelchair, while holding the national flag.
The "fall of the president," she says, is something worth celebrating.
[adrotate group="8″]
Shops opened up as usual in the surrounding area, and business owners saw their sales increase due to the large turnout.
"Seize the opportunity! There is no president, you can process your urgent paperwork today," a man says jokingly, offering his services to cope with bureaucracy.
Outside the home of Otto Pérez Molina in the capital's Zone 15, his detractors also gathered to celebrate, despite the former president and his family having left in the early hours, according to local press.
The Guatemalan Congress convened in the morning to formally accept the president's resignation. The historic vote took place at 12:08 p.m. local time, and with 116 votes in favor and 43 abstentions, Pérez Molina's 44-month term as president came to an end.
As congressmen cast their votes, officials brought down the portraits of the former president from the walls of the government palace, and Otto Pérez Molina presented himself before a Guatemalan court. The judge then read the charges: unlawful association, customs fraud, and bribery.
"I stand with my head held high, as I go through these moments of great difficulty," the former president said in court. "I thank you for your solidarity, your sadness. I will continue to confront this."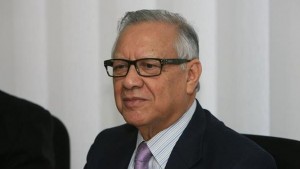 Later on Thursday afternoon, Congress swore in Alejandro Maldonado Aguirre — Pérez Molina's vice president — as his successor. "Guatemala is confident in having a man as serious and capable as him to complete this term," said Pérez Molina, whose term would have ended on January 14, 2016.
In his first public statement to the press, Maldonado announced plans to donate his salary to a "nursing home," and called for the resignation of Pérez Molina's entire cabinet.
Judge Miguel Ángel Gálvez ruled that Pérez Molina shall remain in custody at the Matamoros military unit pending trial.