EspañolOn February 21-22, Global Urban Data Fest took place in 30 cities around the world, each of which hosted the Smart Cities Hackathon, aimed at developing technological solutions to construct intelligent cities. One of these cities was San Pedro Sula, Honduras, where 15 teams of young entrepreneurs designed innovative solutions to urban problems.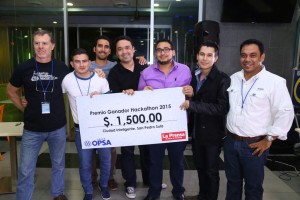 After 36 hours of work, UR Bus, an application to control public transport units via GPS, took the weekend's highest recognition award, together with Social Keys, an idea to facilitate payment for transport charges via a mobile application. Both projects walked away with financing of US$1,500 to get them off the ground.
Another of the 15 initiatives for smart cities earned a special mention: ONCE, a social network open to non-profit institutions looking for support and volunteers.
"The power of our ideas is so strong, and through our energy we can make Honduras equal other entrepreneurial ecosystems that are already highly developed," said event organizer Gustavo Flores.
"The most important thing about a smart city isn't its technology, but its people," said architect Ángela María Stassano at the event's opening. She referred to the implementation of green projects in Honduras, calling on participants to focus on practical and simple solutions to improve the quality of life of San Pedro residents.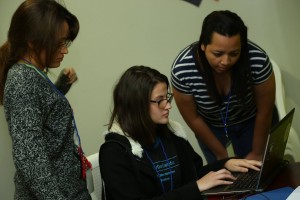 In general, the themes chosen by the young people involved security, education, and access to public health, in line with the key needs of the Honduran city.
According to Flores, one thing that stood out was the doubling of attendance by women at the event, given that "in this environment men tend to predominate. It's been great to see that women are taking the place that they deserve," he told the PanAm Post.
The event took place in Central America's first technological park, the Altia Business Park, located in the northeast of San Pedro Sula. In the dedicated space, participants were able to benefit from an inspiring environment and the necessary tools to innovate.
Google Eyes Central America
Young entrepreneur Ricardo Irías, one of the judges of the weekend and founder of Amazylia — the country's first e-commerce initiative — gave attendees some good news about the sector.
He revealed that the objective of attracting Google to the region would be made easier from August, when Irías is due to present StartUp Weekend Mega, a San Pedro Sula event which will see over 300 young people from Central America and Mexico join together for a crash course in developing their own ideas.
"This news will inject oxygen and encouragement into those Honduran and Central American young people that struggle every day to create, and seek spaces to position themselves as pioneers in markets that are still waiting to be explored," he said.
Honduras: Conditions are Good
Enrique Topolansky, coordinator of the Center for Innovation and Entrepreneurship at Uruguay's ORT University, also formed part of the panel of judges. Topolanksy suggested that the presence of technological parks like that of Altia and the high number of bilingual speakers in Honduras bode well for the country's potential to launch into new markets.
Nevertheless, he highlighted the need to reinforce the quality of university education, since despite well-meaning efforts, it still hasn't reached the level of countries such as Chile, Uruguay, or Costa Rica.
Although the entrepreneurial expert recognized the role of technology in boosting development, he reflected that tech start-ups alone cannot solve the problems of one of the most violent cities in the world.
"If we're looking to resolve the problem of insecurity through technology alone, we're on the wrong track: it will only work when all actors commit to change," Topolanksy said.
Translated by Laurie Blair. Edited by Guillermo Jimenez.