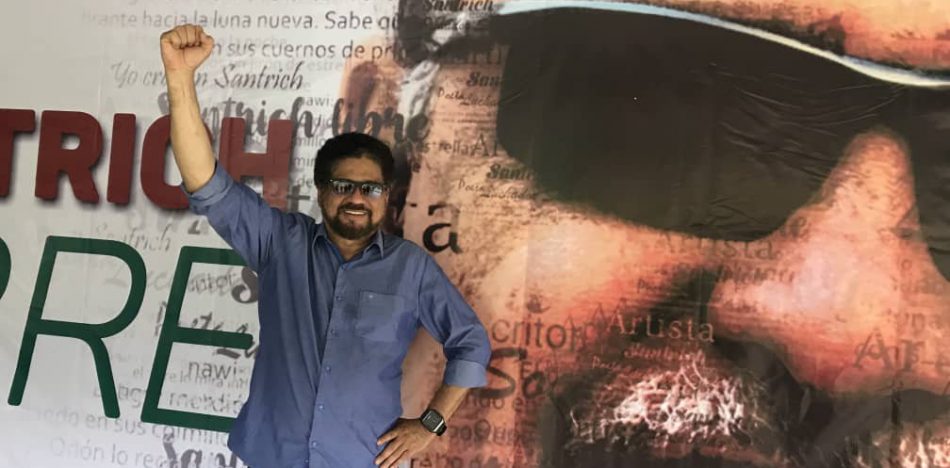 By Andres Fernandez
Iván Márquez, a top FARC guerrilla leader and fugitive from Colombia's Special Jurisdiction for Peace (JEP) once again complained about having given up weapons after the demobilization of the FARC.
Through a communique, the influential figure railed against the government of current Colombian President Iván Duque and the governing party, Centro Democrático, because he described the recapture process of Jesús Santrich as "an illegality and an abuse of authority." According to Márquez, "it is time to raise our voices against human pettiness led by Uribismo and the United States Embassy against the dream of peace," he said.
"No Colombian needs to be a jurist to understand that nothing a drugged person says, as happened with Santrich, can be legal. That capture was an illegality, an abuse of authority," he said.
And he did not stop there, furthermore making a call to the guerrillas who are in the reintegration zones to maintain the guarantee of compliance with the peace accord by means of arms, and suggested that the FARC was deceived by the government.
"How naive we were to not remember the wise words of our commander in chief, Manuel Marulanda Vélez, when he had warned us that weapons were the only guarantee of agreements. The only reality is that they made us sitting ducks."
https://twitter.com/IvanMarquezFARC/status/1130466298973097984?ref_src=twsrc%5Etfw%7Ctwcamp%5Etweetembed%7Ctwterm%5E1130466298973097984&ref_url=https%3A%2F%2Fes.panampost.com%2Ffelipe-fernandez%2F2019%2F05%2F21%2Fcolombia-lider-de-las-farc-asegura-que-fue-un-error-entregar-las-armas%2F
But at the same time, he reminded the ex-combatants that they must continue fighting for a peaceful country, but that this will only be possible with a new government.
Márquez has been on the run since mid-2018, when he allegedly ran away from the Miravalle reintegration area in Caquetá. He know comes and goes as the situation warrants, throwing occasional barbs on his Twitter account and expressing his dissatisfaction with the government's reintegration process.
Similarly, the whereabouts of another top FARC member, Hernán Darío Velásquez, alias "El Paisa", who is currently wanted by the authorities, are unknown. In April, President Duque issued an arrest warrant for El Paisa, and called for him to be held accountable before the courts.
"This criminal must answer for his crimes, and stop making a mockery of our justice system, because Colombians want genuine truth, genuine justice, genuine reparation and genuine non-repetition," said the president.
During his time at the head of the Teofilo Forero column, in the south of Colombia, El Paisa oversaw extorsion and kidnapping, and was also sentenced to 40 years in prison for his role in the infamous nightclub bombing at the El Nogal Club in Bogota.
The Special Jurisdiction for Peace has lifted the immunity that El Paisa previously enjoyed, as he failed to comply with the terms of the agreement between the government and the FARC.