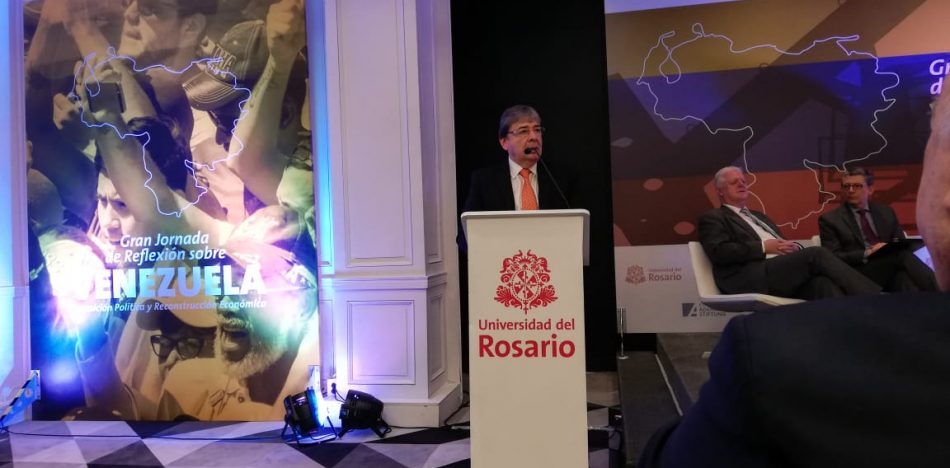 By Andres Fernandez
Colombian Foreign Minister Carlos Holmes Trujillo took aim at Vladimir Putin's recent machinations, describing the presence of Russian aircraft in Venezuelan territory as a military incursion.
"We express our deepest concern over the arrival of two Russian military aircraft to Venezuela at a time when that country is going through a serious multidimensional crisis. This constitutes a military incursion into Venezuelan territory, which did not have the authorization of the National Assembly, as established by the Venezuelan Constitution," said Holmes Trujillo during a forum organized by the Universidad del Rosario in Bogotá.
He assured that it is a matter of great concern for the countries that are a part of the Lima Group that the Nicolás Maduro regime "does not hesitate to use repression to maintain itself in power."
"Venezuela está atravesando una crisis multidimensional porque padece una crisis institucional en virtud del deterioro del Estado de derecho": Canciller @CarlosHolmesTru durante foro organizado por @URosario pic.twitter.com/UPTVfo8l5z

— Cancillería Colombia (@CancilleriaCol) March 26, 2019
The Venezuelan ambassador to Colombia, Humberto Calderón, said that the Russian presence in Venezuela is not a novelty, but has been present for years.
"We have a very big risk at the moment and it is the possibility that Russian military bases will be installed in Venezuela: if that comes to pass we will have a very serious problem for Venezuela, Colombia, and the region," he said.
The Lima Group recently addressed this new chapter of military interference in the neighboring country, affirming the rejection of any provocation that threatens peace and security in the region.
Comunicado del Grupo de Lima pic.twitter.com/GyEunq4TjA

— Cancillería Colombia (@CancilleriaCol) March 26, 2019
On the other hand, after the arrival of the Russian military to train Venezuelan officials in use and maintenance of military equipment, the House of Representatives of the United States unanimously approved three bills that require the State Department to study measures with respect to the "Russian-Venezuelan threat."
The measure seeks to limit the Venezuelan regime's access to non-lethal weapons and increase humanitarian aid, in addition to mitigating the threat posed by the Russian military presence in that country.
La Ley de mitigación de amenazas entre Rusia y Venezuela (HR 1477) exige la investigacion del papel de Rusia apoyando al régimen de #Maduro. Estoy orgulloso de ser co-patrocinador de ambas leyes y del apoyo solido, bipartidista para el pueblo #venezolano.

— Mario Diaz-Balart (@MarioDB) March 26, 2019
Also, the chamber approved the allocation of an additional USD $150 million in order to continue sending humanitarian aid to Venezuela until 2021.
The arrival of Russian military personnel accompanied by the installation of anti-missile batteries shows that the Maduro regime is entrenched and does not intend to leave power without a fight. The Russian presence poses a challenge for the role of the United States, the Lima Group, and interim president Juan Guaidó.