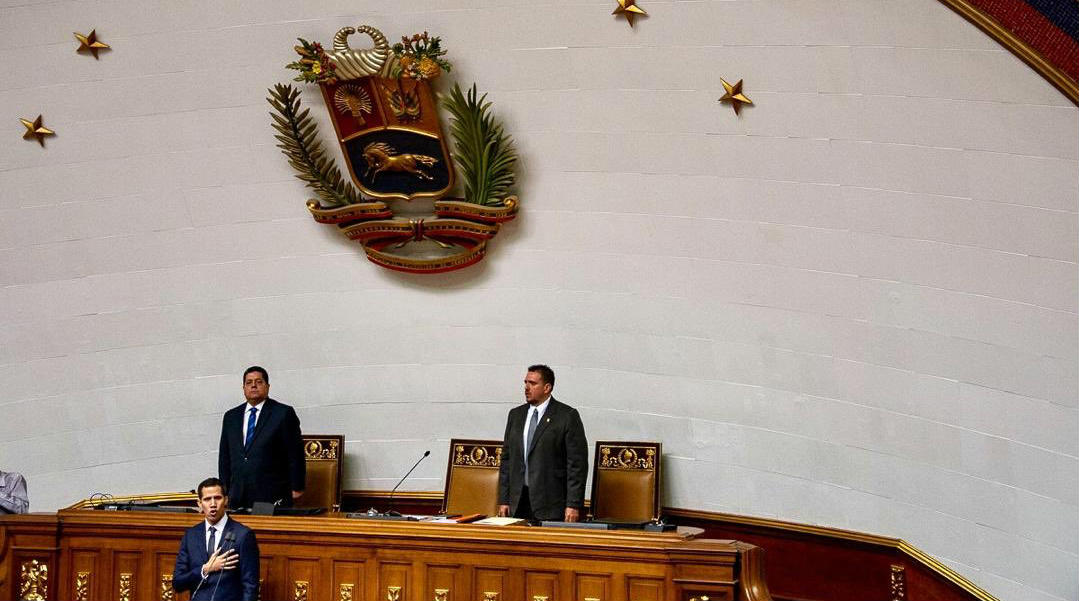 *By Pedro Urruchurtu
In politics, the symbolism of power is as important as its exercise, not only for pretending to have control, but for actually having it. January has ushered in an era of turbulence in Venezuela politics that was completely expected, but with a very important symbolic burden that, if not taken advantage of in time, will end in enormous frustration, after a resurgence of emotions framed in hope.
The world has refused to recognize Nicolás Maduro's regime. This regime, whose legitimacy has been in a tailspin since its inception, today faces the stigma of fraud and falsehood. What happened on January 10, with an almost unrepeatable alignment of external and internal factors, served up on a silver platter an opportunity for the new president of the National Assembly, Juan Guaidó, to fill a power vacuum in the executive branch, a branch in which Maduro is usurping power.
The Venezuelan people have heard discussion about articles 233, 333 and 350 of the Constitution, and after enormous confusion, conflicting messages, and great national and international pressure, for many it has not been clear that there is an interim president in Venezuela and that, under the direction of the National Assembly, it should lead the transition process that is under way.
But why is not it clear? Because it is insufficient, if it does not look like this regime change. There is nothing worse than announcing something without clarity, without force, leaving room for doubt. Juan Guaidó can be invested as head of government, state, and commander-in-chief of the National Armed Forces, but if one does not assume the symbolism of power – not merely its formalities – the signals of recognition (both nationally and internationally) the opportunity will disappear; confidence weakens, and the sense of urgency vanishes. In other words, seldom will there be an opportunity like the one at the present: support, recognition, solidarity, and strength, all necessary elements for power to be assumed and exercised.
Even a formal of taking the presidential oath would make those who have still made timid pronouncements – and those who have openly shown their willingness to do so – choose to recognize and support the new interim transition government; because it is recognized as the sole legitimate power and because he would be the figure with responsibility for this new government. Then, everything else would come together, and the required institutional elements would surface. With the Maduro regime largely ignored by the international community, although it would continue to act and operate, it will be increasingly isolated.
The symbols are essential. The Maduro regime continues to use them even if the world ignores them and even if nobody believes what they say. On the other hand, Guaidó, who enjoys the support of multiple sectors, has not successfully appropriated the image of the presidency or used the symbols that his true legitimacy gives him – an image and symbols which Maduro lacks.
The world, institutions, public opinion, all are favorable to Guaidó, as never before. It seems that everyone is sending him signals, they ask him, they even beg him to take power in the wake of this unique opportunity – because victory is at hand. The more the regime acts and pretends that everything is normal, while Guaidó assumes his new role, the more difficult it will be to thwart the transition.
The debate about taking power before being recognized by the world and institutions (such as the National Armed Forces), when we see that the willingness to support Guaidó is imminent and growing, must lead the opposition to demonstrate that they want power. If perception, like symbology, begins to incline towards postponement and doubt, then we will be faced with a lost historical opportunity of epic proportions.
Guaidó can not ask others to disobey the Maduro regime, and work to restore the Constitution, if he is not able to assume his own role in that Constitution and enforce it. Being a matter of perception -and of guarantees, as the young Guaidó has repeatedly said, the only way to be supported by those whom he asks for support is to project power. Being weak and hesitant, he will not succeed.
It is time to use his position of current strength, which has translated into support and recognition, to press forward and make the weak understand that time has run out. Playing by his rules and continuing to give him oxygen, will only give him more cards in the game. It is only by positioning ourselves as the strong that we can reach a real negotiation that leads to a definitive transition to democracy. To do the opposite would be fatal.
We know that it will not be easy, we know that it implies risk and we know that time is short. Guaidó and the country know this, but Venezuela has also let young President Guaidó know that they will support him and accompany him to the end, because freedom is at hand.
We are very close.
* Pedro Urruchurtu is vice president of the International Federation of Liberal Youth (IFLRY) and a National Coordinator of Vente Venezuela. A political scientist, he graduated from the Central University of Venezuela, where he is a professor at the School of Political and Administrative Studies.