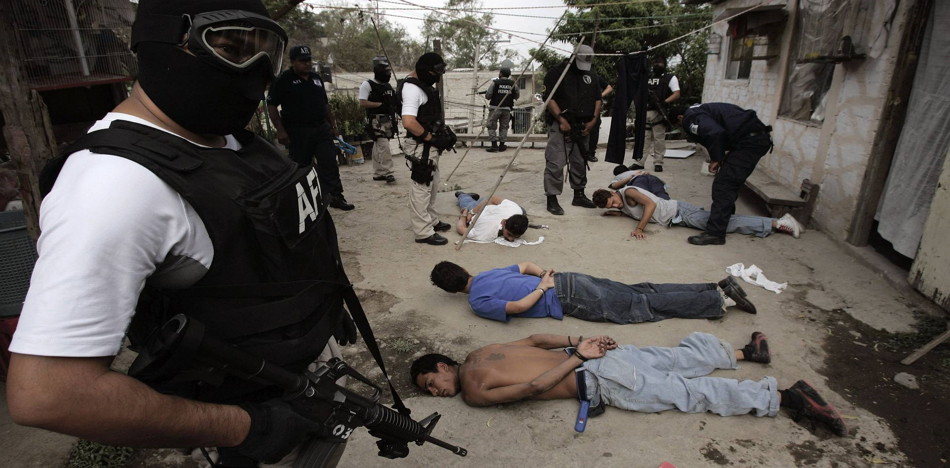 Many analysts are shocked at the collapse of Venezuela, a nation that was once showcased as the cradle of modernity in Latin America. This surprise of course springs from the fact that most observers failed to realize that the ascent of the so-called Bolivarian movement to power was part of a complex network of intertwined interests between the Cuban regime and organized crime. Failure to identify the nature of the country's dilemma, has led to the exhaustion of the most vibrant and heroic civic movement ever to act in Latin America.
Fighting the Venezuelan disease demands a deep understanding of the relationship between economic and technological development and institutional prowess. To be sure, every geographical or technological shift in the world economy and its production methods generates strong economic change that surpasses the capacities of political institutions to channel this change. Pockets of unregulated territories begin to mushroom, and these serve as theater to illicit activities. Those perpetrating illicit activities and enriching themselves from those activities take hold of the uncontrolled territories.
In ancient times, the Silk Road took hold to unite production and consumption between Asia and Europe. The voyage from Quanzhou to Xi'an was full of perils arising from bandits that would raid caravans to seize their riches. The outlaws would then hide in remote villages protected by a feudal lord that did not particularly like the rulers of Quanzhou or Xi'an. The goods were then sold at some city further east along the Silk Road. Bandits also conducted espionage activities that produced hefty income flows as most medieval lords were at odds with one another. They also engaged in paid assassinations and in the trade of deadly potions. Those bandits were eventually vanquished or subject to control as the Mongolian empire consolidated itself, Persia became a regional power, Venice ruled the Mediterranean Sea and Constantinople/Istanbul succeeded Rome as organizing node for the existing world trade. Yet it took at least three decades to annihilate criminal organizations that had mushroomed along the Silk Road. The Silk Road was closed by the Ottoman empire in 1453. This gave way to the Age of Discovery, when the world experienced yet another major economic shift.
Organized crime had another glorious epoch when America was discovered by the Europeans as a result of the Ottoman blockade. The event changed the world economic axis both geographically as well as technologically, given that Prince Henry of Portugal convinced his father to invest in innovative ships thereby triggering competition among European powers to develop faster, larger and more resilient vessels. Pope Alexander VII gave the newfound territory to Spain and Portugal. This invited trouble. It wreaked havoc on the world balance of power and left economic powers like France, England and Holland out in the cold. So, those countries left out organized to participate in what was deemed to be the most significant wealth creation exercise of the 16th century: knowing that neither Spain nor Portugal would be able to exercise territorial control over the Americas, England, France and Holland turned to adventurous characters that lived in the legal shadows to spoil the Spanish-Portuguese American Hackathon.
Pirates, privateers, and buccaneers were the labels placed on these adventurers who chose to create their own city in Kingston Bay. The city was world famed for its bars, brothels, and gambling parlors. It was described as the wickedest city in the world. In the 17th century, Port Royal competed with Boston as trading post between the Americas and Europe. But it all ended in June 1692 when an earthquake and a Tsunami sank the city to the bottom of Kingston Bay, killing about 2,000 people. Mother Nature took care of organized crime.
Sicily provides us with a petri dish to study the relationships between economic change and the emergence and consolidation of organized crime. The island's natural resource endowment made it a repository for the Middle East and Europe. Accordingly, all European and Asian powers lusted for Sicily and occupation began in the ancient days. The locals decided to get organized to protect themselves from ravage, seizure of lands, and traffic of people as slaves. Their organization evolved into what we know today as the Mafia. It internationalized at the turn of the 19th century when waves of Italian migration arrived to the United States where the organization prospered in a way not dreamed of by its peasant founders back in Sicily.
Again, the world economy had moved from agriculture to manufacturing, reducing the economic significance of Sicily whose inhabitants migrated to more prosperous lands. Eventually the Italian government acted to crush the Mafia but by that time (1970s) it had already become international. The U.S. moved to address the scourge by creating the RICO legislation, which effectively fought organized crime for decades.
The debt crisis and the end of the post-World War II economic impetus in Latin America jump started another fundamental change in economic growth. Macroeconomic balances took over, and while they increased foreign direct investment flows, social safety nets were streamlined. Agriculture was hard hit. Rural populations began to seek placement of alternative crops that would allow them to overcome subsistence. A great opportunity opened for organized crime. Elites throughout the world, in particular those dealing in entertainment and finance, began to demand an invigorating substance. Cocaine turned into a precious commodity and organized crime became an economic power.
In a continent where elites shrewdly evade taxation and economic inequality rules supreme–thanks to the preservation of the medieval institutional framework created by Phillip II of Spain–the table was served for organized crime. Add to the mix secular corruption, and it is easy to see why the Lords of Samarkand could vanquish organized crime from the Silk Route, while Latin American nations seem to quietly coexist with organized crime. And while the US and other leading nations of the world have created legislation to fight drug trafficking, the trade seems to both effectively merge with other illicit activities while penetrating their lower bureaucratic levels to continue to flow.
Meanwhile in Latin America organized crime has taken over entire regions to secure safe haven not only for drug trade but also to ancillary criminal activities such as human trafficking; money laundering; corruption and financing terrorism. Slowly but surely the Latin American territory is showing ever growing pockets of territorial control by organized crime. Mexico's oceanic routes are controlled by drug cartels that have recently initiated a vertical integration move to produce cocaine in Colombian territory. Venezuela is divided into three regions that are run by different mafias that include Russian, Chinese, Syrian, Colombian, Mexican and Bulgarian elements. Ciudad del Este is a no man's land where none of the governments with jurisdiction over the territory (Argentina, Brazil, Paraguay) can act against all kinds of contraband and forgeries. El Salvador is practically ruled by street gangs from the United States known as MS-13. Honduras is yet another replica of Ciudad del Este in the heart of Central America.
All these criminal organizations thrive in Latin America because the region was built with an institutional framework designed to support corporatist networks, and because the international institutional framework enshrines sovereignty. Corporativism allows organized crime to penetrate elites. Sovereignty, to hinder international action.
What comes next is truly frightening. Technology increasingly enables organized crime to exert and defend territorial control over Latin American territory. This has been amply demonstrated in Venezuela, where all efforts from civil society against a regime penetrated by criminal organizations have ended in hundreds dead and thousands wounded. This threat easily upends the capacities of these nations to react and defend themselves. Indeed, they lack resources to effectively dispense public services such as health care, education, and safety. The response thus needs to be international.
The United Nations Convention against Transnational Organized Crime is contemplating action. But triggering UNCTOC would lambast corporativist institutions in Latin America. Therefore, deployment of this international treaty will be resisted in every country. Action must thus come from abroad as was the case when the U.S. triggered UNCTOC to fight money laundering and terrorist financing within FIFA, the world soccer association. Triggering UNCTOC perhaps is the most pressing decision to be taken by developed nations who have enshrined the RICO Laws principles in their legislation. Now they need to give life to those laws internationally. The more it takes to face the hydra head-on, the faster consolidation will be of a Mafia State in the region. And this seems to be the course of events in Venezuela.
I must thank Armando Armas and Mateo Haydar for their support and guidance in the research that led to these striking results on the degree of plasticity developed by organized crime over the centuries and its current hold of the territory in Latin America and in particular in Venezuela.
Beatrice E. Rangel was a public servant in Venezuela for over 20 years, where she was appointed Chief of Staff to President Carlos Andres Perez. She currently leads a consultancy firm in Miami and is a board member at the Interamerican Institute for Democracy.