By Ricardo Manuel Rojas
On Sunday, April 15, Guatemala held a referendum to determine whether it's willing to take the border conflict with Belize to the International Court of Justice.
With an admittedly low turnout of just 26%, a very high percentage of 95% voted affirmatively on the proposal. According to local newspapers, the consultation aroused little interest, and there was considerable misinformation about what was being voted on.
It is now necessary to hold a similar consultation in Belize, and if it is affirmative, the litigation could be headed to the International Court. The day after the event, the government of Belmopan expressed its satisfaction with the result and announced that a consultation would be held in Belize shortly. Thus, the 2007 recommendation of the Secretary General of the OAS, would be fulfilled.
The disputed territory consists of about 12,000 km2, between the Sarstún and Sibun rivers, as well as about a hundred islands and islets (approximately half of Belize's total area). This dispute recognizes a long history that dates back to the 19th century, in which Guatemala claimed territories that were not expressly included in the cession of lands occupied by Spain to Great Britain and the original territory of Belize.
Belize declared its independence in 1981, which was recognized by Guatemala ten years later, although limited to the self-determination of the Belizean people, but not to the territory of the country, which remained in dispute. A first popular consultation similar to the one carried out now was thwarted in 2013.
Belize has a total population of some 380,000 inhabitants, of which the two southernmost districts included in the Guatemalan claim: Stann Creek and Toledo, count less than 70,000. It has a rudimentary economic structure; it is basically an exporter of agricultural products such as sugar, citrus fruits, bananas, and shellfish, and despite its attractive Caribbean Sea coastline, it has little tourist development, compared with that of other countries in the region.
Submitting the dispute to the decision of the International Court of Justice implies, as in any trial, a risk for the interests of both nations. Despite this, it seems a considerably better solution than continuing with a litigation indefinitely open and without a solution. However, such a trial will deal with questions related to sovereignty, to the detriment of other interests that are less solemn but perhaps more relevant for the inhabitants.
The development and prosperity of that area seem to depend much less on which of the two countries has sovereignty over it, than on the rules that allow for economic growth; and the implementation of said rules will not occur as a consequence of the adjudication of sovereignty by the International Court.
It could be said that, as often happens in private disputes, an agreement is always preferable to a trial, for multiple reasons; and perhaps Guatemala and Belize have not given themselves the chance to explore some forms of agreement to overcome the conflict and take economic advantage of it.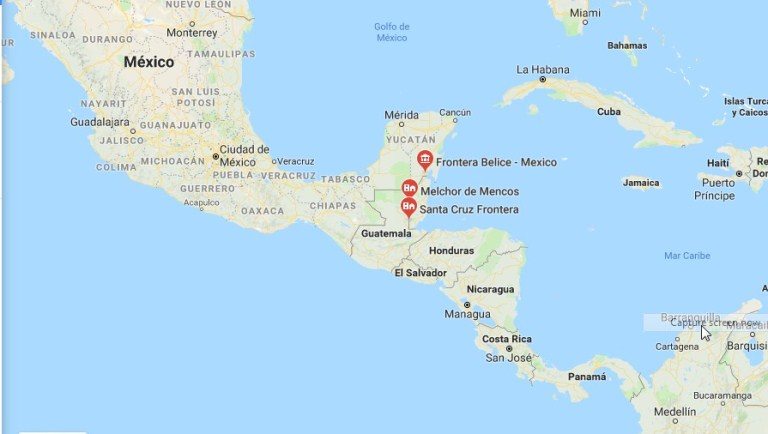 There are many examples in recent history about the consequences that a peaceful change of rules has produced in inhospitable or disadvantaged regions. Hong Kong and Singapore are perhaps two of the best-known examples. Once merely China's desolate and rocky islands, once the rules were changed, became thriving regions.
Another interesting historical example is that of Pennsylvania, an extensive sparsely populated territory donated by the King of England to Sir William Penn, who established rules there based on respect for individual rights and formed the foundation of what later became the United States.
On this basis, one could think of an alternative solution, which does not involve discussing territorial sovereignty before an international tribunal, but an agreement between the two countries that contains, in general terms, the following guidelines:
1) Suspend the discussion on territorial sovereignty for a considerable period of time (for example, a century), during which both countries commit themselves to avoid any claim or to perform acts that may generate conflict.
2) Promote the creation of an administration of the territory, integrated by the inhabitants of that zone, in which certain rules are established that, like the Constitutional Statute of Hong Kong at the time, are based on certain fundamental principles: recognition of individual rights, and the minimum intervention of the state in private affairs.
3) Very low fees for administrative services instead of taxes, an opening of borders for the entry and exit of people and goods, an open legal system that allows the agreed resolution of conflicts using all the legal resources available to the parties, low levels of regulation on civil and commercial activities, and high respect for property rights.
4) Belize and Guatemala would be the guarantors of respect for these rules and could work with companies from their respective countries in economic and financial matters. A mechanism should also be established so that, at the end of that period, either the recognition of the definitive autonomy of that region and the renunciation of any claim of sovereignty by the two countries can be decided, or else the discussion on sovereignty can be resumed. and submitted to the International Court of Justice.
Very likely, by then the region will have acquired such a level of prosperity and growth that its inhabitants will hardly be concerned with the border dispute. In addition, both Guatemala and Belize would probably gain a lot by having a rich and prosperous region as a neighbor and business partner.
Wealth is produced through investment, and money goes where certain rules are respected. In Latin America, it has been very difficult to change the rules through democratic processes, since populism has always generated incentives to maintain the privileges of those who dictate them, at the expense of those who produce wealth.
Some years ago, such a rule change was attempted in limited regions of Honduras, but the effort failed precisely for political reasons. Perhaps this uninhabited and unexploited region that is currently being contested by Belize and Guatemala could be the place to show how a change of rules could be a direct path to prosperity. It would be auspicious if both governments gave themselves the chance to examine that alternative before resorting to an International Court.