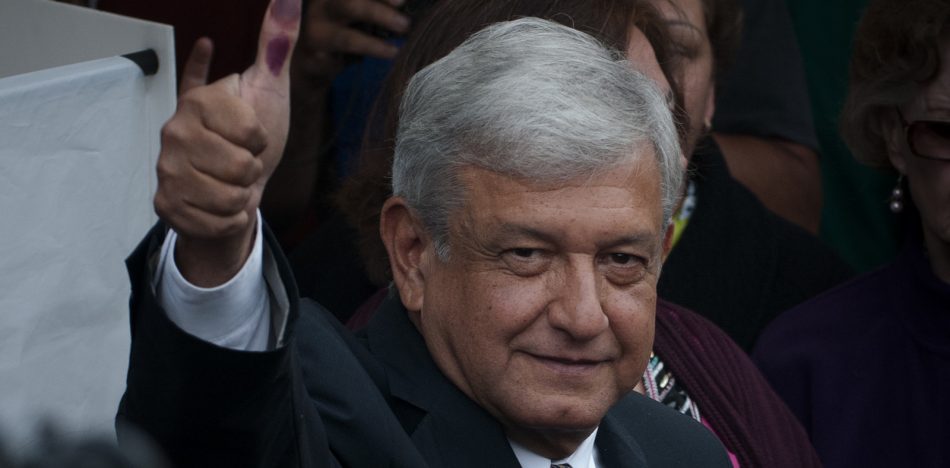 Mexican presidential candidate Andrés Manuel López Obrador (AMLO) and his followers' intolerance to criticism is already well known to journalists, academics and intellectuals –many have suffered from physical aggression, faced death threats, or were publicly discredited after any criticism of the candidate. Some were told by López Obrador himself how to do their job, or were fired, or suffered some form of harassment on social networks, or had their words censored in the press. These acts of intolerance are well known, and sufficiently documented.
But gradually, the intolerance is reaching a level rarely seen in Mexico since its democratic transition in 1997. By force of repetition, receiving threats for disagreeing with López Obrador is becoming something normal, even expected.
The behavior of the Mexican candidate and his followers suggests that, were they to reach power, they would follow the footsteps of other leftist governments in Latin America: Rafael Correa's repeated attacks and criminal persecution of journalists and media in Ecuador; the chavista harassment in Venezuela against independent media and laws rewritten to the advantage of the regime; or former President Cristina Kirchner's tenacious persecution of Grupo Clarín and other Argentine media, for which she even used the country's Supreme Court.
It is still worrisome that after a relatively successful electoral reinvention of his image, presenting a jocular and agreeable López Obrador, his threatening and censoring nature has once again reared its ugly head.
Recently, he railed against Nobel laureate Mario Vargas Llosa, and even made a call to burn his books. He also took Mexican intellectual Enrique Krauze to task for an article in the New York Times. And his supporters demanded the deportation of libertarian activist Gloria Alvarez from the country, and repeatedly threatened and bullied her and her supporters on social media.
For López Obrador and his followers, everyone who criticizes them is a member of "the Mafia elite," corrupt conservatives paid for by his enemies. In his speech, he places his critics as instruments of the ruling oligarchy on one side, and on the other "el pueblo," the people he claims to represent and embody. The near deification of López Obrador by many of his supporters hearkens back to the storied flattery of presidents such as Luis Echeverría and José López Portillo, dropping to a bended knee and kissing on the hand included.
If his current level of intolerance is now worrying, one can only imagine what López Obrador would be able to do once in government with the power of legal coercion, access to public resources, and the incontestable head of an imperial presidency reborn.
The candidate has already promised to pardon delinquents, not to investigate politicians and corrupt trade unionists, and even grant them legislative jurisdiction. And whoever can forgive criminals can just as easily punish innocents.
Currently, the Mexican Constitution prohibits the re-election of presidents. But AMLO proposes convening a new "constituent assembly" and creating a "moral" Constitution. But, wait! Haven't we seen that movie before? Yes, of course, many times: In Venezuela and the satellite governments of Chavez.
In this regard, López Obrador's past is not reassuring in any way. As head of government of Mexico City (2000-2005), he called his supporters to street protests and championed irregular and rigged plebiscites. His government was an example of some of the most shameful cases of corruption and the use of the justice system to target his opponents. In his political life, he has insulted and removed judges and electoral authorities, using threats and blackmail as valid means to an end.
Today, López obrador warns about fraud and violence in the next presidential election if he does not win. Meanwhile, the discourse of his political allies is a continuous justification of all the atrocities perpetrated by the Venezuelan government. The Mexican candidate's MORENA party is a permanent classroom of chavista justification and indoctrination, as evidenced by its activists and intellectuals such as Enrique Dussel in his defense of the Venezuelan dictatorship.
For all these reasons, you can make a good case that López Obrador is sick. And with him, his most loyal followers. His is displaying a visible and increasingly worrisome disease called the Hubris Syndrome. This syndrome relates to a character in Greek mythology who achieved glory and, "drunk" on success, behaved like a god, believing himself unique in history and therefore capable of anything. In modern psychiatry it is used in reference to an unconscionable ego and being power-sick.
AMLO therefore, does not talk with journalists, intellectuals and critics, except to give them instructions, or to scold them or reject them. Overall, everyone is wrong except him and those who flatter him. A little more than 100 days before the presidential election, as the campaign season begins, I hope that López Obrador heals and recovers. From the bottom of my heart. Because if he wins on the first of July, the consequences of his illness will affect not merely Vargas Llosa, Krauze, Gloria Alvarez and others, but we will all suffer as Mexicans. And our souls will repent.
Victor H. Becerra is Mexico Libertario's secretary general. He has contributed to the creation and development of various libertarian organizations in Latin America. Follow him @victorhbecerra.