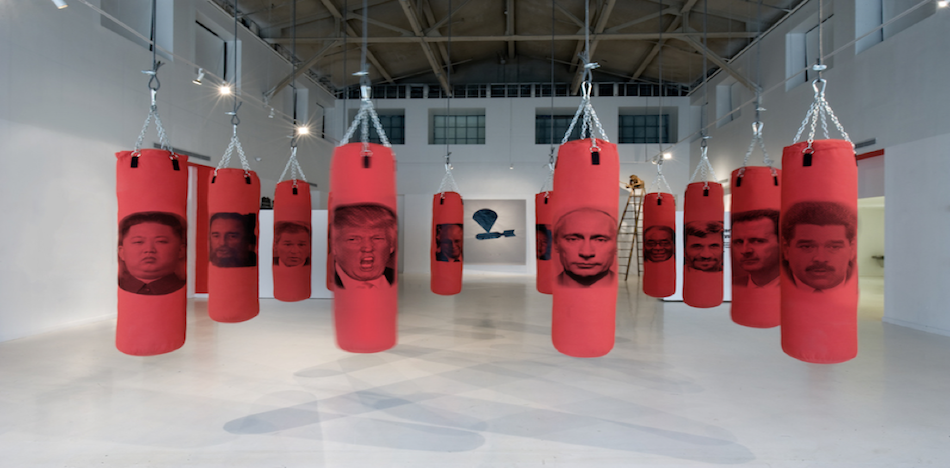 By Dominique Selman
With so much negative energy ruling politics in socialist countries, many of us have begun to neglect traditional means of communicating about issues that do not address the abuses of power in the public sector. One important way to oppress the expression of hard-working citizens has been through art. Yet art has also proven to be effective as a means of protest.
Art itself arises as a need for expressing a feeling of relief, of liberation and of social complaint, often against an oppressive entity. Socialism has led to the fatal destruction of patriotic values, families ad jobs and the migration of artists to different places where their talents and productive capacities have more exposure.
There are two exhibitions in Latin America worth highlighting for the quality of their complaints against socialism. The first is the exhibition "Venezuelans in the World" in Art SDQ, a gallery in the city of Santo Domingo, Dominican Republic. While Art SDQ, in my opinion, is one of the best-managed galleries in the country, with a team that does not take the importance of creative capacity or young talent for granted, the opening of the exhibition was especially touching given the message of liberty and compassion for Venezuela.
What proved even more admirable was the sense of solidarity felt that night, because at no time was there talk about the pricing of the works exhibited. On the contrary, the focus remained on sharing ideas and creating change. The video that was played during the opening night of the exhibition about the situation in Venezuela was extremely touching for everyone. The work of the three artists exhibited — Migdalia Salazar, Miguel Grillo and Ramón Aular — will be up in the gallery until December.
Initiatives such the one by Art SDQ must continue to thrive in order to create awareness of the dangers of living in countries whose rulers adopt these models of government, and to encourage the use of art that portrays a deep sense of social responsibility.
The second exhibit linking art with social complaint against big bureaucracy, is "Collección al Límite, sin Límites." This exhibition, by Cuban artist Antuan Rodriguez, contains a work called "Left Right," made up by a series of punching bags with the faces of various politicians — among them, Venezuelan dictator Nicolás Maduro. However, his image was removed from the show for unknown reasons. One theory posits that the order came from Venezuela, while others suspect it was Telefónica, trying to protect interests yet to be discovered.
It's not a coincidence that out of all the politicians whose faces appeared on a punching bag, the only one censored was someone known all over the world for being an abusive dictator. Could President Donald Trump not be equally offended that his face appears in something so mocking? That's the difference between a dictator and a leader of a developed country, who understands that there is opposition and does not feel threatened by something so subjective.
Centers that encourage education and arouse curiosity promote key values of freedom. Art, at its essence, has the function of serving as an engine of development and escape. Freedom of expression leads to the empowerment of the people, and that is why it's important to promote the artistic integration of all peoples, especially in Latin America, so that we can compete in a globalized world and not be seen as a region of extreme underdevelopment.