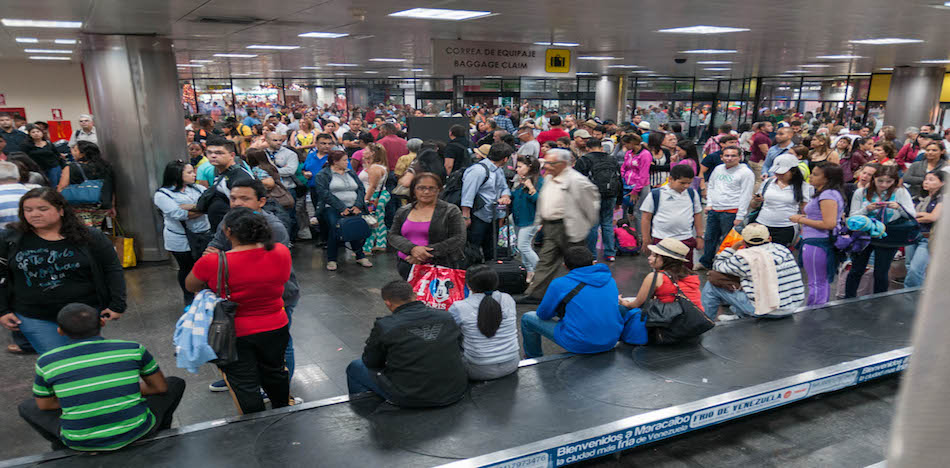 By Dominique Selman
When I first went to Venezuela, I promised to come back as soon as I could. I was captivated by the country for its culture and for the joyfulness of the people despite the social, political and economic situation they continue to be in. Though I will never admit that I prefer other beaches over the ones in my own country, Los Roques made me feel as sublime as I did when visiting the Baños in Ecuador for the first time or the beaches I usually visit in Nizao.
Unfortunately, for security reasons, my dream of returning to Los Roques continues to be postponed. When buying a ticket to Ecuador with a stop though Venezuela, I never expected things to become so complicated and risky. I don't know if my detention there had something to do with the fact that a few weeks before I participated in a conference entitled "Socialism in the 21st Century," but my experience in the Maiquetía airport was anything but pleasurable.
I had already heard about the internal movements and mafias in Venezuela, but I think part of me wanted to see the danger of being detained for myself, as well as how critical the situation had become. Continuing with the research work I did when I went in 2014, I wondered if it really was worse then it was when I went the first time.
The first mistake was the fault of the airline, Aserca, as they allowed me to board a flight to Venezuela without having a visa. At the ticket desk I specifically asked about transferring suitcases for the second flight, and they assured me there would be no problem. I had even called ahead to ask about it, and confirmed I could travel without risk of not reaching my final destination.
In preparation for meeting my in-laws in Ecuador for the first time, I packed all of my favorite scarves and my camera. But when I was detained at the airport for several hours — they were reviewing my passport without providing much explanation — I told them desperately that I was willing to lose my luggage if it meant getting to Quito on time. I called all of my friends who are lawyers, politicians and diplomats, thinking they might be able to help me get out of Venezuela.
I soon learned that airport officials stop most people who seem likely to be carrying American dollars, attempt to make them believe they have no rights within the boundaries of immigration control, and thus force them to spend money on a new ticket. More than six people were in the same situation with me.
It seems that the scammers at the airport do not like colorful garments or perhaps it is too hot in Caracas for wool coats, because they only stole boxes of candles that I carried as a gift. Mixed berries has always been one of my favorite fragrances, but I didn't think it was so irresistible as to bring out the worst in a person.
The situation in Venezuelan is indeed shameful, as honest individuals who want to live happy, normal lives have been forced to flee the country. As much as I support globalization and regional integration, especially when it comes to the arts, I would love if  corruption and oppression weren't so integrated into that process right now.
The truth is, sometimes we have no other choice but to flee, or embark upon new projects to grow in hopes that when we return home things will be better and we'll be more understood. Dear leaders of socialist parties, I suggest you start burning lavender candles and using coconut face masks. I find they are the best for relaxation and thinking clearly.