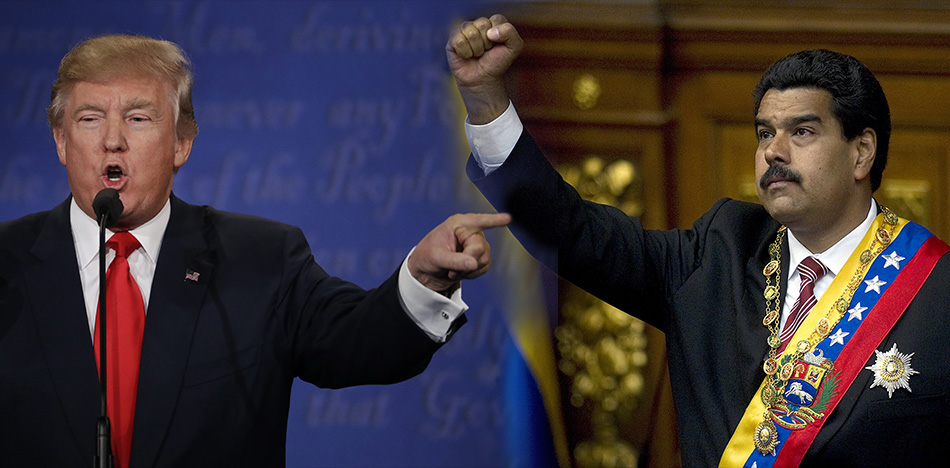 By Yigal Chazan
The US is facing a difficult decision over the severity of new sanctions against Venezuela in the event of President Nicolas Maduro going ahead with an apparent plan to strengthen his grip on the increasingly divided and impoverished country.
Washington has promised "swift and strong economic actions" if Maduro holds elections to a super-legislative body on Sunday, July 30, which many believe would then rewrite the constitution to increase presidential authority and side-line the opposition-controlled national assembly. Such a move would push Venezuela further down the path of dictatorship and escalate months-long, anti-government protests.
The embattled, autocratic President, who is widely blamed for oil-rich Venezuela's descent into economic and political chaos, shows no sign of reconsidering his pledge to create a so-called constituent assembly, despite a groundswell of public opposition to the move and intensifying diplomatic pressure.
America has been alarmed at Venezuela's rapid demise. It has so far confined its response to sanctioning officials – seemingly concerned not to be seen to be interfering in the internal affairs of the troubled country. But Washington's position appears to have hardened after a wave of protests led by the Venezuelan opposition and a humanitarian crisis caused by severe shortages of food and medicine. US officials have said that "all options are on the table", including sectoral sanctions against Venezuela's oil industry, which accounts for 95 per cent of its export earnings.
The dilemma facing President Donald Trump, who has described Maduro as a "bad leader who dreams of becoming a dictator", is that more targeted sanctions against officials suspected of wrongdoing are unlikely to curb Maduro's increasing authoritarianism while restrictions on the country's energy sector could deepen the suffering of ordinary Venezuelans and cause economic pain in the US.
Venezuela, once one of the most prosperous countries in the region, has become impoverished through chronic mismanagement, corruption and plunging oil prices, with the country's refineries working at half capacity. A survey last September showed that nearly 60 per cent of registered voters wanted to leave the country. Reports suggest that thousands have already done so, heading for neighbouring states, America and Europe to escape acute shortages of basic goods, unemployment and triple-digit inflation.
With Maduro apparently set on acquiring more powers, conditions are likely to deteriorate, given his woeful handling of the economy. The President and his ruling Socialist party supporters control most state institutions. They have stymied the work of lawmakers and suspended plans for a recall referendum – a recall vote would have triggered presidential elections that opinion polls suggest Maduro would lose. In April, the Supreme Court partially reversed its decision to strip the assembly of its legislative powers after a domestic and international outcry.
But the attempt to neuter the assembly galvanised the opposition, the Democratic Unity coalition, whose mounting protests over the last few months have been suppressed by the security forces, resulting in scores of deaths. Maduro has cast the demonstrations as a conspiracy by his opponents and foreign powers to oust him.
Once-sympathetic neighbouring countries have become critical of the Caracas regime. A recent resolution at the Organisation of American States – the premier regional diplomatic body – urging Maduro to scrap plans for the constituent assembly came close to being approved. It only just failed to get the required two-thirds majority, thwarted by Caribbean states which rely on cheap Venezuelan oil.
To date, the US approach to the political and economic chaos, which Trump views "as a disgrace to humanity", has been to sanction significant policymakers. In February, the Vice-President Tareck El Aissami was blacklisted for alleged involvement in drug trafficking – charges he denies. Then, in May, the administration imposed measures on eight members of the Supreme Court, including its president Maikel Moreno, for its move against the national assembly. The restrictions include freezing their assets in the US and preventing them from travelling to the country.
Should Maduro go ahead with the constituent assembly, there have been reports suggesting that Defence Minister Vladimir Padrino Lopez and Socialist party power-broker Diosdado Cabello may also face sanctions. But thus far targeted measures have had little impact on government policy. Some in the administration are now calling for more sweeping restrictions, including sanctions against Venezuela's oil industry and a ban on US imports of Venezuelan crude. The embargo, favoured by influential Cuban-American politicians, is a highly controversial option.
Venezuela, whose foreign reserves have sunk to below $10 billion for the first time in 15 years, generates much of its hard currency from sales of crude to the US. Nearly half of Venezuelan oil is exported to America – China and Russia are other big customers but pay through loans. The US money is used to import increasingly scarce supplies of food and medicine and to pay foreign holders of Venezuelan bonds. A ban on Venezuelan oil would aggravate the worsening humanitarian situation and possibly lead to default, as Caracas is already struggling to service its debts. The state energy company, PDVSA, would look to find other buyers, but this could take time.
Some in the Venezuelan opposition have already warned against an embargo, which may also allow Maduro to rally regional support by pinning the blame for the deepening crisis on the US. Moreover, critics of harsher measures point out that the Cuban regime has survived despite over fifty years of American sanctions.
Washington is also conscious of the potential impact on America's economy. Venezuelan oil accounts for only a small proportion of American imports, but an embargo may prove costly for US refiners – particularly those reliant on Venezuela's heavier grades of crude – and lead to higher petrol prices. The largest association of US refiners, the American Fuel and Petrochemical Manufacturers, has lobbied Washington not to include an oil embargo in any measures taken against Caracus. Industry experts suggest the imports from Venezuela might be hard to replace.
Trump has pledged that America will "not stand by as Venezuela crumbles". Seemingly committed to easing the plight of Venezuelans, any action he takes in response to the creation of a constituent assembly will be closely scrutinised. If Trump does too little Maduro might be emboldened but if he acts precipitously the crisis may be exacerbated. It would behove the US President to get this one right.
Yigal Chazan is an Associate at Alaco, a London-based business intelligence consultancy.