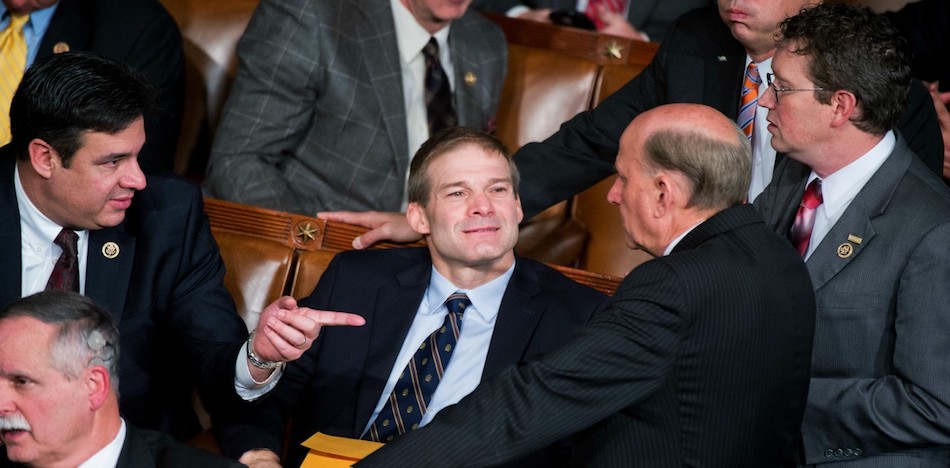 By Jeffrey Tucker
My hope is that this article will settle this nonsense once and for all. It won't. Fake news outlets will persist as long as they are allowed to get away with it. It's a smear and an outright lie but it goes on often, especially recently.
The Background
First of all, as you undoubtedly know, there is a faction within the House of Representatives gaining consciousness of the great task of our time: to get government out of the way of the productive forces of freedom, and to do this in every area of life. It is called the "Freedom Caucus," and their influence just brought down the false alternative to Obamacare that preserved all its essential features.
Given the upheaval in the Republican Party, these people are developing a new understanding of themselves. They stood up to Trump. Clearly, they don't exist on the common left/right spectrum. 
In how they handled the great Obamacare/Ryancare debacle, they should be called "libertarians," because this is the word that has emerged to describe them in our times.
But more correctly, they should be called "liberals," because they are the successors to the great cause of human liberation that began in the late Middle Ages, extended through the Enlightenment, drove the revolutions against power in the 18th century, ended slavery and the subjugation of women in the 19th century, and fought socialism and fascism in the 20th century. In the 21st century, they've championed digital innovation, privacy, and technological progress.
Here is a good tutorial. 
What They Believe
This group, which is undergoing a revival in many forms in our times, is trending toward being a consistent force of freedom. It's not there just yet but the trend line is unmistakable and good. It's not just about lower taxes, though they do desire that. They also want free trade, free migration as an ideal, free speech, deregulation, penal and prison reform, and an end to wars of all sorts. In short, they see the free society as the answer and government as the problem.
They have few connections to what is called the Left, except in areas like prison reform, drug decriminalization, and free speech. But neither do they share the values of the emergent far Right we're seeing in Europe or the United States. They reject authoritarians of all sorts, which is why they are not reliable friends of the Trump administration. They will back him when he is right but fight him when he is wrong. They are independent in this way, recognizing that both Right and Left are forms of statist ideology, two flavors of the same cause.
They are often called "conservatives" in American political lexicon, and sometimes they too have to embrace this term because it has resonance with the media and the voters. But they don't like it, and it doesn't really describe them. They do not want to conserve any old habits of government. They want government out of the way precisely so market forces and society in general can discover new and better ways of doing things.
Now, having described the Freedom Caucus in the House as best I can, consider what the New York Times says. The article "Trump Becomes Ensnared in Fiery G.O.P. Civil War" is by Glenn Thrush (twitter.com/GlennThrush) and Maggie Haberman (twitter.com/maggieNYT). Here is what they write:
In stopping the repeal of the Affordable Care Act, the Republican Party's professed priority for the last seven years, the rebellious far Right wing of his party out-rebelled Mr. Trump, and won a major victory on Friday over the party establishment that he now leads.
You see that? The "rebellious far Right wing."
The Real Far Right
Any reader would equate that designation with Marine Le Pen in France, Geert Wilders in the Netherlands, the Golden Dawn in Greece, Jobbik in Hungary, Norbert Hofer in Austria, and so on. Actually, you can read all about the rise of the far Right in Europe in a very authoritative source: the New York Times, in an article published only a few months ago.
Their policies are by now predictable. They want protectionism, restricted immigration, some form of industrial economic planning, a strong welfare safety net, and, very often, they favor national health care systems.
In fact, even in the United States, the most highly-trafficked Nazi website (please forgive me for not linking) came out with a front page editorial on the day of the Republican vote that came out explicitly for nationalized health insurance.
These policies are not pro-freedom. They have more in common with an interwar-style fascism. Most people who hang out on Twitter know them well. They are masters of the troll, self-proclaimed edge lords who tweet racist, anti-semitic, and nativist slogans and memes all day and all night. There are whole packages of software designed to block them.
Libertarianism is different, very different, from the alt-right, the far Right, the fascist right, the Nazi right, and so on.
Rebellious, Yes; Far Right, No
With health care, in particular, you see a striking difference. The Freedom Caucus opposed the Trump/Ryan plan because it preserved the statist features of Obamacare. It did not introduce market competition. They knew, as a matter of personal conviction and experience, that the replacement would not work. They acted out of principle but also out of a genuine knowledge of the sector, what has broken it, and how it must be fixed.
These reporters really must find a way to clean up their language, or risk sowing a very dangerous confusion. It is ridiculously misleading to persist in these old habits of describing any non-Leftist as associated with the "far Right." It smacks of propaganda. These reporters have to do better if they want to describe the emergent liberal faction of the Republican party with any accuracy.
On a personal note, I adore the New York Times. I read it thoroughly every day. I don't agree with it, but I find it an indispensable source of news. I would like to see the ideological reporting of this paper improve.
If you tweet to these reporters, please be nice. No trolling. They are human beings. They are trying to do their best. They just need a bit of help. It is crucial they get this right.
Jeffrey Tucker is Director of Content for the Foundation for Economic Education. He is also Chief Liberty Officer and founder of Liberty.me, Distinguished Honorary Member of Mises Brazil, research fellow at the Acton Institute, policy adviser of the Heartland Institute, founder of the CryptoCurrency Conference, member of the editorial board of the Molinari Review, an advisor to the blockchain application builder Factom, and author of five books. He has written 150 introductions to books and many thousands of articles appearing in the scholarly and popular press. This article was originally published on FEE.org. Read the original article.