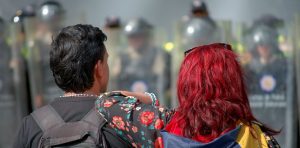 By Manuel Malaver
Venezuela President Nicolás Maduro and his administration know their disapproval has reached near 80 percent. They also know if only 50 percent of that majority participate in the "Great March on Caracas"— a mass demonstration to be held on September 1 — his administration will be technically and politically thrown to the curb.
The "Great March on Caracas," convened by the democratic parties MUD and Venezuelan Civil Society, will take the first steps to leading the country to a new era. This "political cleanse" already started on Tuesday, August 23, when a group of indigenous people of the state of Amazonas dared to defy the Cuban soldiers that intended to stop them from protesting.
A day before, Priest Lenin Bastidas Villegas, from the state of Anzoátegui, announced to his congregation that he was going to march toward Caracas. Villegas wanted the Venezuelan Episcopal Conference (CEV) to start a vigil at the National Electoral Council (CNE) to force the release of a date for the collection of the signatures needed for the Revocatory Referendum against Maduro.
Marianny Linarez and Farnataro Pascual, members of the "Movement of People with Disabilities," have also joined the indigenous group of Amazonas and priest Bastidas. Coming from Barquisimeto, Lara, they are now traveling toward the capital of Venezuela in their wheelchairs to join millions of other citizens.
These people represent Venezuela, an entire nation that a gang of corrupt fanatics has humiliated and insulted. Contrary to what history has taught us, Maduro and his fellow Chavista friends imposed an unproductive and destructive political and economic system: socialism.
Millions of people spend day and night begging for food and medicine to a government that only has bullets, tear gas and violence to give.
This gang of ultra corrupt officials destroy everything except their personal billionaire fortunes, while enjoying their homes in tourist paradises frequented by the rich and famous. If only other countries would hold them responsible.
This is a crime against humanity, such as those also committed in Cuba, North Korea and Syria. The indigenous people of Amazonas, Priest Bastidas, Marianny Linarez and Pascual Farnataro have all been victims of the country's rampant crime, which has taken the lives of 28,000 Venezuelans per year on average, not to mention freedom of speech and private property, among other things.
The 10 million Cubans who wish to flee the Castro regime, the North Koreans, the Chinese or the Russians, all stand with the Venezuelan people, who will take Caracas together under the ideals of liberty, democracy, respect for human rights and the defense of the constitution.
This is what makes Maduro tremble. He has been forced to take refuge under the skirts of the "ladies of the CNE," four women who have been asked to boycott and prevent 80 percent of Venezuelans voting against the worst president Venezuela has ever had.
Venezuela should embrace the goal of not only beating this administration, but burying it via peaceful electoral and constitutional mobilizations, such as the one we will see on #1S in Caracas and throughout Venezuela.
Manuel Malaver is a Venezuelan journalist and political analyst. Follow him @MMalaverM.