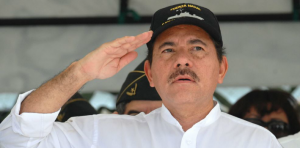 By Byron Rodríguez Palacios
Both Nicaragua and its current President Daniel Ortega are very complicated topics to discuss these days. What exactly is Danielismo?
Kenneth E. Lawrence Morris' book titled "Unfinished Revolution" does a good job of answering that question. It gave me a broader and deeper picture of Daniel Ortega Saavedra, whom many consider Nicaragua's dictator.
It's hard to figure out why a man who emerged from extreme poverty and obtained an education thanks to the help of a priest not only creates policy that takes from the lower class, but who is accused of raping his current wife's daughter. He is also considered one of the the most bloodthirsty and ruthless murderers in Nicaraguan history.
Daniel Ortega was a very humble student, born in 1945 in the province of Chontales. He grew up in the mining town of La Libertad, where he worked alongside his father throughout his childhood.
His father, burdened by a lack of work and opportunities, moved the family to the city of Managua when Daniel was thirteen years old.
Ortega and his brothers acquired a very troubled "revolutionary" desire there, which later led his brother Camilo to die during a series of revolts in the city of Masaya.
The Ortega family was thrown out of rooms on numerous occasions for not paying rent. Their critical economic situation earned them fame as defaulters; no one in the neighborhood wanted to rent them a place to live.
At the age of 14, Daniel met Founder of the Sandinista National Liberation Front (FSLN) Carlos Fonseca Amador. Daniel also visited a Masonic temple near his house, where he learned about revolutionary leader Augusto César Sandino. During these visits, Ortega's admiration for Sandino grew.
In 1967, Daniel was jailed for robbing a bank in the heart of Managua. One of the orders that Ortega gave to his subjects was that all those who opposed the robbery should be killed, showing that his interests have always been more important than the law.
Ortega spent seven years in prison. During the revolution of 1978 and 1979, Ortega took refuge in Costa Rica. In 1978, he had a common-law marriage with Rosario Murillo, who would not marry him formally until 2005. Murillo, also a Sandinista militant, aimed to become the new Vice President of Nicaragua in the upcoming presidential elections, despite it being a direct violation of the country's constitution.
The first lady has been criticized for her constant abuse of drugs and alcohol, as well as for promoting a culture of antisocial values derived from the "New Age" sect she follows. In addition, she has been accused of illicit enrichment, given that over the last 10 years, Murillo and her husband Daniel Ortega have managed to amass a fortune at the expense of tax evasion and bribes from state enterprises' providers, among others.
Daniel Ortega has seven children and a stepdaughter named Zoilamerica Murillo, who formally accused him of rape. The Ortega administration has tried to cover up the situation.
Ortega's political life truly began July 17, 1979 after President Anastasio Somoza Debayle left the country in response to the FSLN getting close to controlling Managua. Since 1990, Daniel Ortega ran for president until finally being elected in November 2006.
His triumph was called into question after winning the presidency with only 37 percent of the total vote. He came to power with minimal popularity, having won due to a split vote between his opponents.
One of the most interesting parts of this political mess loaded with corruption, nepotism, and kickbacks is an alleged pact between Daniel Ortega and Rosario Murillo that increased her power.
Murillo has held full control over all the government offices of the Ortega administration and its relationship with the media. Moreover, Murillo actually leads the ranks of Ortega's political party, so the appointment as her husband's running mate was only a matter of time.
In order to eliminate any dissent against President Daniel Ortega's quest for his third term, the Nicaraguan Supreme Electoral Council recently dismissed 28 opposition legislators (16 members and 12 alternate members) from Congress.
The Congressmen belong to the Independent Liberal Party (PLI) and its ally, the Sandinista Renovation Movement. They were dismissed for refusing to comply with the Supreme Court's appointment of Pedro Reyes, one of President Ortega's "unconditional" politicians, as the new PLI president.
With this arrangement, and Ortega's immediate announcement of Rosario Murillo as his running mate, all the formalities and pillars of representative democracy in the Central American nation have been weakened.
A dictatorship has officially started in Nicaragua.