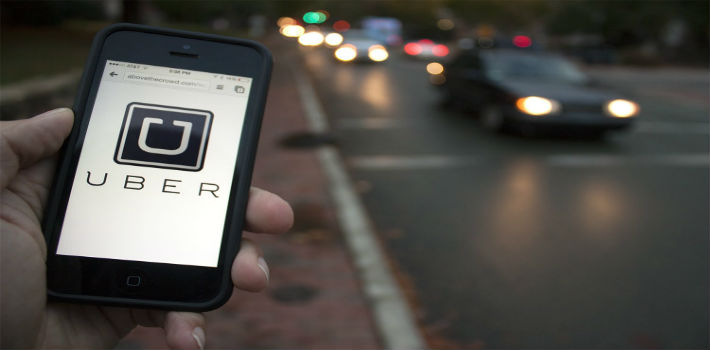 By Julian Villabona
EspañolTaxi drivers in Colombia started portests Sunday, June 26 in an effort to push the government to take action against drivers and users of the Uber phone app.
Over 600 taxi drivers took part in the demonstrations, led by David Luna, outside the Ministry of Information Technologies and Communications (MINTIC). They asked for a space to talk about the operation of Uber in Colombia and its alleged illegality.
Taxi drivers originally requested the deactivation of the application across the entire country, but this was seen as restricting the freedom of people trying to mobilize. Additionally, officials consider this to go against the free trade agreements signed between Colombia and the United States by hampering technological innovation.
Taxi drivers' argument rested in the alleged illegality of Uber in Colombia, but no judicial body or Colombian institution has been able to determine as such. Because it is a technological innovation, there are no specific rules to govern it to date.
Taxi drivers in Colombia have been known for carrying out criminal acts over recent years — attacking vehicles suspected of using Uber and hurting their passengers.
Local support
Taxi drivers from Risaralda in western Colombia announced they would join the protests Tuesday. Their spokesperson, Olger Ceballos, who is a representative of the taxi driver association Asopoder Amarillo, said he considers Uber to be a platform for disloyal competition.
"We are going to start a national day of protests against this illegality with protests in Barranquilla, Bucaramanga, Santa Marta, Cucuta, Villavicencio, Armenia, Manizales, Cali, Medellin, Buga and Tulua, among others. Afterward, several national leaders will move to Bogota to back the hunger strike carried out by several of our fellow workers," Ceballos said.
The Colombian authorities have started fighting back against plans Uber has to begin in other cities, like Barranquilla, where the director of transit announced vehicles doing rides with Uber will be immobilized.
There are currently 12 taxi drivers chained near the Ministry as a form of protest.
Sources: RCN Radio