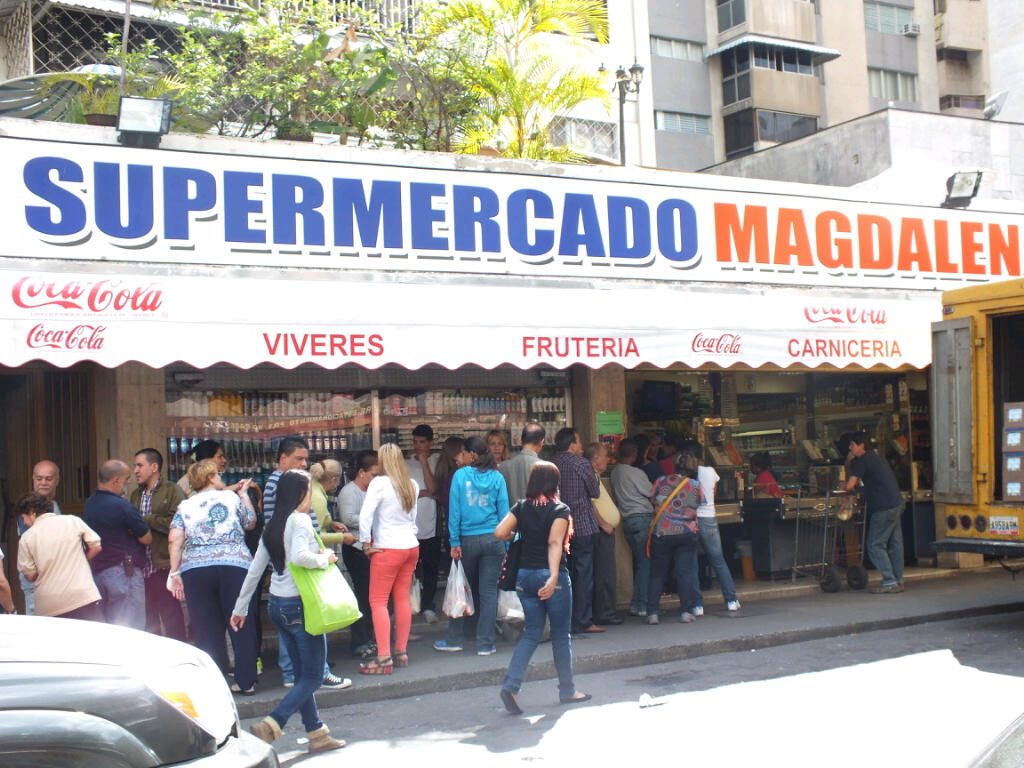 By Ysol Delgado
EspañolVenezuela has become a city full of "bachaqueos" — an informal term referring to scalpers who buy products and resell them for profit.
Nowadays, "bachaqueros" wait in long lines not to buy their own basic products, but for any product they can find — whether they need it themselves or not — so as to resell it on the street.
Currently, lining up is hard on any Venezuelan, as it often requires over 15 hours of lines to buy basic necessities. It's risky, too, because sometimes there may not be anything in the store by the time they get to the front of the line. And with increasing theft and looting, the job becomes that much harder.
Read more: Food Riots Shut Down Venezuelan City as Police Join Rampage
The average Venezuelan has been forced to buy resold products at even six times the original price when items can't be found in stores.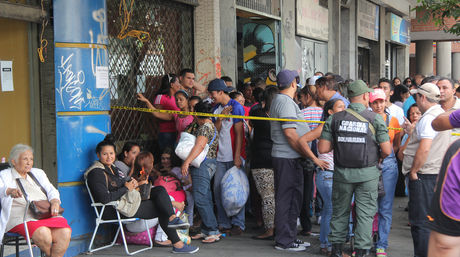 The day in the life of a bachaquero
"I come from Los Teques to wait in the line all by myself," said Marcela Pinzón. "Up there you can't get anything. Here we have to fight, but I always manage to buy something."
Her story repeats itself up and down the line and in lines outside of supermarkets and drugstores across the country.
"There were at least 100 people in the line, but I had to stay to see what I could get," Pinzón said.
The following hours transpired with complaints outside the La California store in Eastern Caracas, as well as tales of men and women's adventures that have to go to take up the "bachaquear" life to survive.
At 8:30 in the morning, the store opened its doors to let the first group of buyers through. At least ten National Guard members were guarding the entrance. An hour later, many people had only managed to get a single pack of wheat, flour and toothpaste.
"People that come from outside Caracas, instead of going to their own neighborhoods, are to blame," people often yelled around the store.
Around four in the afternoon, Pinzón decided to go to a well-known drug store chain called Farmatodo. After two hours and more lining up, she still hadn't purchased anything and decided to walk. Later, she managed to buy a box of diapers, not because she had children at home, but because "somebody will come for them."
Alfonso Valero claimed he came from Vargas, approximately 30 miles from the capital, to see what he could get, because the "situation was much worse" further inland. He arrived in the morning and spent the whole day "bachaqueando" until around eight in the evening, when he had to catch a bus back to his home town.
Trouble lining up
According to Datanálisis, 60 percent of people that line up to buy food from the state food subsidy program are bachaqueros.  For every VEF $1,000 that a bachaquero invests in the purchase of regulated products, a profit of up to VEF $8,000 is obtained.
"If you go three times a week you make up to VEF $70,000 a month," the CEO of Datanálisis said.