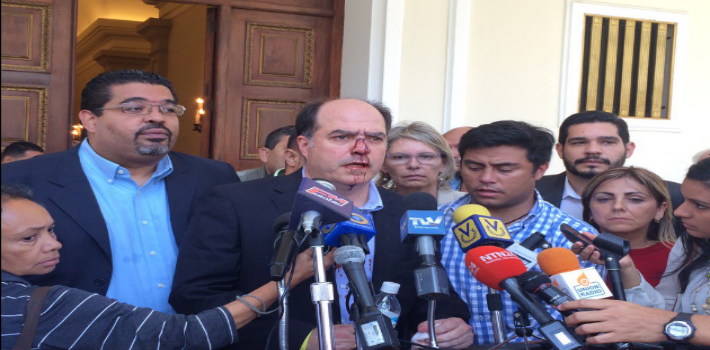 By Ysol Delgado
EspañolVarious Venezuelan officials, Head of the Venezuelan opposition Julio Borges among them, were attacked Thursday, June 9 in front of the headquarters of National Electoral Council while protesting for answers regarding the presidential recall referendum process.
Borges, who is Head of the majority party in the National Assembly, was allegedly attacked by chavistas in front of the National Electoral Council building during a protest in favor of the recall referendum that may force President Nicolás Maduro from office. Borges was reportedly left with an open wound on his face.
Nuestra +enérgica condena a ataque contra diputados de @unidadvenezuela. Frenar violencia en #Venezuela ya pic.twitter.com/wSqXaBFRzs

— Luis Almagro (@Almagro_OEA2015) June 9, 2016
The other approximately 60 members of the parliamentary that were in front of the building accompanying Borges were also victims of similar attacks, though the severity of specific attacks is unknown.
The violence began when members and supporters of the opposition tried to pass the barricade of police officers and National Guard in front of the CNE building.
The military forcibly removed protesters, who were also punched and attacked with blunt objects by pro-government people standing nearby.
The protesters were at the CNE demanding a formal response or update regarding the signatures collected over a month ago for the recall referendum.
"We are going to continue pressuring them until they give us verification," Borges told reporters before the violence broke out. "It is our right as Venezuelans to vote and decide."
Source: El Nacional