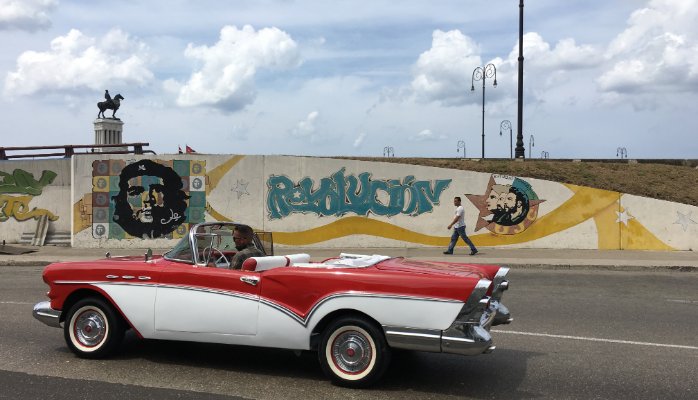 By Jonas Sundgaard
Havana's roads received a new layer of asphalt along the beautiful Prado Boulevard and the colorful buildings in Old Havana were shining brighter than ever prior to Barack Obama's visit to Cuba. The decay and poverty in the city, however, is too prevalent and pervasive to be hidden by a quick make-over in honor of the first visit by a US president in 88 years.
Cuba offers exotic beaches, magnificently colored American vintage cars from the 1950's, joyous salsa rhythms and iconic cigars. But this is largely a façade, behind which lies a very different reality. During a private trip to Cuba that coincided with Obama's visit to the island, my wife and I got a small peek into real life under the communist Cuban regime.
My wife and I both speak Spanish, which provided us with ample opportunity to engage with the local Cubans. We gained an insight into the lives of the vast majority of Cubans who do not see as much as one peso of the billions that are now flowing into the country.
Even so, tourism is essential for Cuba. Without it, the country would probably be on the verge of famine. But while the tourism industry has raised the living standards of thousands of Cubans, it does not change the fact that most ordinary citizens still live a life of poverty with very few opportunities to change their fate and improve their general circumstances.
Going Beyond the Tourist Façade
One late afternoon, walking along the Malecón waterfront, my wife and I started a conversation with two Cuban brothers in their 30s. We were so fascinated with their story and their openness that we spent the rest of the evening and the following afternoon with them.
Both brothers were engineering graduates. One earned the equivalent of $16 US dollars a month, the other $22-25 dollars a month. That is less than half of the World Bank's international poverty line of $1.90 USD a day, and the meager state-funded food rations hardly alleviate the hardship. An average Cuban public servant earns about $20-25 USD a month.
In contrast, the owners of "Casas Particulares" (private bed & breakfasts that rent rooms to tourists) make $25-30 dollars per rented room per night. This obviously creates an unsustainable situation in which the incentive to get an education disappears and where hard-working, well-educated Cubans see the prices of reasonable quality goods increase at such a pace that only those engaged in the tourism sector — or with the right connections to the communist regime — can afford to live a decent life.
The two brothers whom we had befriended invited us into their "home," which consisted of a 10-12 square meter room on two floors, which they shared with three other family members. There were no shower facilities and the toilet was in a corner of a room only shielded with a sheet to be drawn when Mother Nature called.
The family could not afford to buy bottled water, which in the cheapest stores cost $0.7 USD for 1.5 liters. They only had access to tap water which is unfit for drinking purposes, often causing illness and diarrhea. There, between the shabby mattresses and dubious sanitary conditions, the superficial make-over of Old Havana seemed rather pointless.
Elsewhere, we experienced how an elderly lady with tears in her eyes showered a tourist with a myriad of thanks, hugs, and kisses just because he gave her a small package containing a bit of soap and deodorant. It was heartbreaking and, unfortunately, just another example of the scarcity of resources that is so detrimental to the welfare of the Cuban people.
Unfortunately, extreme poverty is just one of many problems in Cuba. Another issue that pervades Cuban society is the unscrupulous breach of basic human rights, including freedom of expression, freedom of assembly, and freedom of the press.
During our trip I got the chance through some contacts to conduct an interview with graffiti artist and human rights activist Danilo "El Sexto" Maldonado. After several unsuccessful calls, I unfortunately had to give up on getting a hold of him. Due to the limited internet access in Cuba. It was not until I was safely back in Denmark that I learned why I hadn't been able to reach him: El Sexto had been detained and subsequently jailed by the police. He was arrested without official justification and without any opportunity to contact people outside to let them know how he was or where he was being held. This meant, among other things, that he was reported missing on Twitter by several of his followers.
Human Rights Abuses under the Castro Regime
On March 31, Human Rights Foundation (HRF) issued a press release condemning the Cuban regime's continued harassment and indiscriminate arrests of El Sexto and other human rights activists. HRF has, due to the serious situation in the country, placed a special focus upon Cuba. For years, it has condemned attacks on Cuban journalists and limitations on doctors' freedom of movement. The organization has also helped to bring attention to the death of a prominent human rights activist. Another human rights organization, Human Rights Watch, has also criticized the continued repression of human rights in Cuba as detailed in its World Report 2016.
The same report criticizes slave-like conditions in prisons, as well as restrictions on travel both outside of and within Cuba, where dissidents from other parts of the country are often refused entry into Havana. Hence, it is no surprise that Freedom House, in its annual Freedom in the World report, ranks Cuba as the least free country in Latin America with a score of 6.5 out of 7 (with 7 being the least possible freedom). Cuba, in fact, is ranked between South Sudan and Ethiopia on a global scale. This is shameful for a country that fulfills all geographical and cultural prerequisites for being a thriving democracy.
But what about Cuba's good doctors and its free health care and education systems, the benefits which the Castro regime supposedly offers its subjects? It is true that Cuba has free education for all who have the right skills. Nevertheless, if the end result is that you complete a five-year university degree in order to receive a monthly salary which can easily be quadrupled in a single day if you work in tourism, then such an education is basically worthless. If the first two steps in Maslow's hierarchy of needs (physiological needs and safety) are far from assured, then free education offers little consolation.
And yes, there are many doctors in Cuba, and one should certainly not ignore the fact that everyone has access to free medical care, that the infant mortality rate is low, and that the average life expectancy is on a par with most Western countries. However, this is not the whole story; conditions in several Cuban hospitals leave much to be desired since the buildings are dilapidated, hygiene is terrible, waiting times are exorbitant and all equipment outdated (the latter can to some extent be attributed to the continued embargo against the country).
The fact is that, unless the pay and general conditions of Cuban doctors improve, there is an imminent risk that many of them will leave the country as the relationship with the outside world, and thus the possibility of settling elsewhere, improves.
What can be done?
It's no easy task to redress the Cuban situation, and it is largely up to Cubans to address these concerns themselves. Many issues need to be dealt with, but I will discuss the three areas that I consider most important.
The first step is to improve the human rights situation. By releasing political prisoners and stopping indiscriminate arrests, allowing freedom of expression, freedom of assembly and freedom of the press, and hopefully establishing democracy, the Cuban people will finally enjoy the rights that all people deserve. If the Cuban government permits civil and political liberties, it will also remove the most important reason for the continued US embargo against the country.
The second step is to make it (much) easier to start private businesses, whether large or small. The rise of private enterprise in a free market as the U.S. embargo is lifted will create a wave of investment in Cuba. This, in turn, will create unprecedented opportunities for the locals. With the growing opportunities (and wages) in the private sector, the poorly paid public sector will also be lifted up to a level that will ultimately entail better living conditions for all.
The third area to be addressed is the complete opening and liberalization of the internet. Internet access has improved slightly over the last few years. Now you can find a few Wi-Fi hotspots in Cuban cities that are controlled and managed by the Cuban authorities. Users must pay a cost of $2 USD per hour.  Since this sum exceeds two days' wages for the average Cuban, one can only conclude that the internet is not freely available to all.
Without internet freedom, knowledge cannot be freely shared, so that Cuba's economic development is greatly hindered. As President Obama himself declared to the Cuban people, the internet is one of the greatest engines of growth in human history.
President Obama has started to think about his legacy and, with few significant foreign policy victories under his belt, he has sought to improve the United States' relation. This creates a unique window of opportunity for Cuba. The Cuban leadership needs to seize this moment as there is no telling what the situation will be in less than nine months once there is a new president at the White House.
In a country where political and economic changes take place very slowly, the proposed reforms will be hard to digest for the country's relatively small power base. The changes will inherently mean less power in the hands of a spoiled communist elite. Well-executed reforms, however, will improve the living conditions dramatically for the vast majority of Cuba's 11 million citizens. The country has a well-educated population, low crime rates, a favorable geographical location, and a boom in foreign investment. There are no limits to what a democratic Cuba with free and open markets can achieve.
The Challenges Ahead
If we put the dream scenarios aside, and again turn our attention to the current situation in Cuba, one cannot ignore the fact that the country still faces several challenges. It is precisely because of these challenges that I would encourage everyone who chooses to visit the country to meet with the locals outside the colorful tourist areas. Here you will have the possibility to influence the situation by placing some of your tourist money directly in the hands of those who really need it.
Hopefully, the spread of freedom will gradually increase support for the growing number of dissidents and thus help speed up the transition to a genuine, free, and popular revival of Cuban democracy.
Tourists will in turn experience a heartwarming population who, despite poverty, hardship and repression, try to get the best out of life. You will meet a people who sincerely care about you and who can give you an insight into what it really means to live under a communist regime.
So travel to Cuba and enjoy the country. But also make sure to look beyond the façade. Visit the places where clean drinking water is in short supply and soap is a luxury item, where people have never been on the internet, and where the dream of the socialist revolution has turned into the regular nightmare of a planned economy.
Jonas Sundgaard is a Policy Consultant at CEPOS (Center for Political Studies)