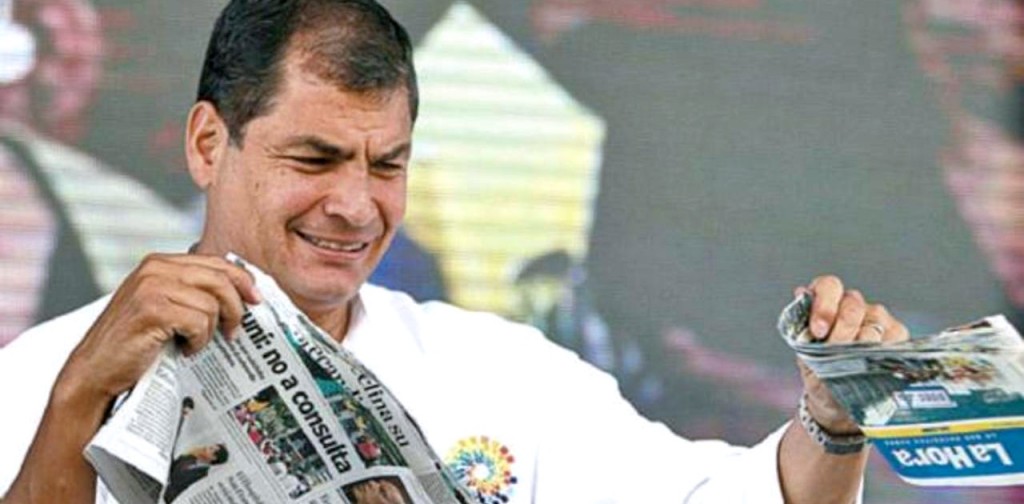 By Theodore J. Boutrous, Jr.
EspañolPress freedom is under a global attack. Journalists are increasingly faced with intimidation, imprisonment and even death at the hands of controlling and corrupt governments, religious militants and fanatics such as the Islamic State, among others who seek to suppress the truth.
A recent report by the Committee to Protect Journalists found that 69 journalists were killed in the line of duty in 2015, including those murdered in retaliation for their work and those killed in combat or crossfire on dangerous assignments. Meanwhile, hundreds of journalists and bloggers have been jailed, harassed or abused for their reporting. Dozens more remain "missing."
One example of this war against the press is Ecuador, which has one of the worst press freedom records in the Americas. It is becoming widely recognized that Ecuador's President Rafael Correa has embarked on a campaign against the free and independent press to silence his critics in that country.
In 2012, Ecuadorian investigative reporter and news anchor Janet Hinostroza was forced to take a leave of absence after anonymous phone calls threatened her safety, which followed her reporting on a scandal at a state-owned bank involving President Correa's cousin. President Correa has targeted Hinostroza during several of his weekly national broadcasts, and he even exported that harassment when Hinostroza traveled to New York in 2013 to accept a press freedom award from the Committee to Project Journalists. There, Hinostroza was greeted by 150 pro-government protestors picketing the event with signs labeling her a traitor and a liar.
Fundamedios, an independent press-freedom organization in Ecuador, documented more than 370 incidents of verbal, physical or legal harassment of the media by authorities and Ecuadorian citizens in 2015 alone, up from 254 in 2014. The government responded by attempting to shut down the organization, which is funded, in part, by the US Agency for International Development (USAID). This action prompted condemnation by three UN special rapporteurs and the Inter-American Commission on Human Rights.
In December 2015, the Associated Press reported both Hinostroza and the director of Fundamedios were the victims of a sophisticated computer hacking scheme, which is thought to have been state-sponsored. Just this month, another study by the Committee to Protect Journalists and the Thomson Reuters Foundation named Ecuador as one of the nations that has used criminal defamation laws to imprison journalists.
President Rafael Correa has embarked on a campaign against Ecuador's free and independent press.
President Correa has also vilified Ecuador's best-known political cartoonist, Xavier Bonilla — Correa called on his 1.6 million Twitter followers to send insults to the cartoonist, whom Correa referred to as an "ink assassin." In 2015, only days after the tragedy in Paris at the offices of the satirical publication Charlie Hebdo, Bonilla was called before a government media oversight commission under Ecuador's widely criticized Communications Law, and was reprimanded for a cartoon critical of a member of the ruling party.
Correa's government has also closed down and fined television and radio stations and newspapers who have been critical of his administration. These heavy handed actions have drawn the condemnation of organizations like the Human Rights Foundation and Freedom House.
The Ecuadorian Government has also begun using U.S. copyright laws to mute its critics. The Committee to Protect Journalists recently reported Ecuador has been using a Spanish company called Ares Rights to file copyright complaints with content hosting websites such as YouTube and Twitter to have images, documents and other material critical of the Ecuadorian government removed from the sites.
[adrotate group="7″]Since 2011, Ares Rights has filed 74 complaints on behalf of Ecuadorian politicians, political parties, state media and state agencies. Not surprisingly, one of the recent complaints was lodged against Fundamendios, relating to an image published alongside a December 2015 article denouncing President Correa for referring to an exiled journalist as a "psychopath" and "human wretch."
These few examples follow a longstanding pattern of the Correa government cracking down on press freedom. It is ironic that President Correa has given Wikileaks founder Julian Assange refuge at the Ecuadorian embassy in London under asylum since 2012, while he and his operatives overtly persecute and prosecute reporters and press freedom organizations in his own country.
The United States Congress has taken note of Ecuador's campaign against freedom of the press and expression. In December 2015, the House passed a resolution condemning violations of press freedom and violence against journalists in Latin America. House members stressed that "attacks on press freedom in Ecuador are a daily problem," and the resolution specifically mentioned the Fundamedios case and urged the State Department to promote an open and free press.
It is vital that the U.S. government continue to join with the United Nations, media organizations, and human rights groups to protect journalists and independent media, in Ecuador and around the world.
Theodore J. Boutrous, Jr. is a partner at Gibson, Dunn & Crutcher LLP, where he has represented a number of media organizations and journalists, and he is a member of the Board of Directors for the International Women's Media Foundation.