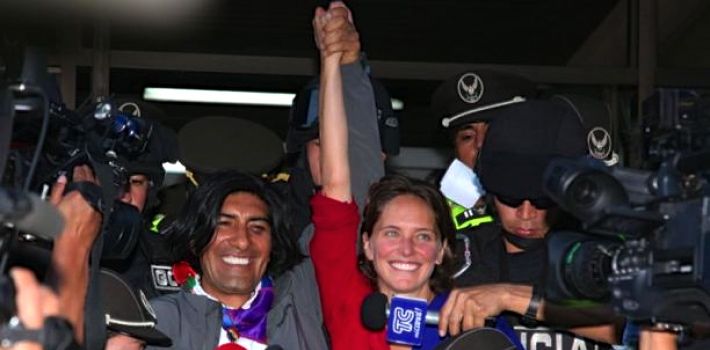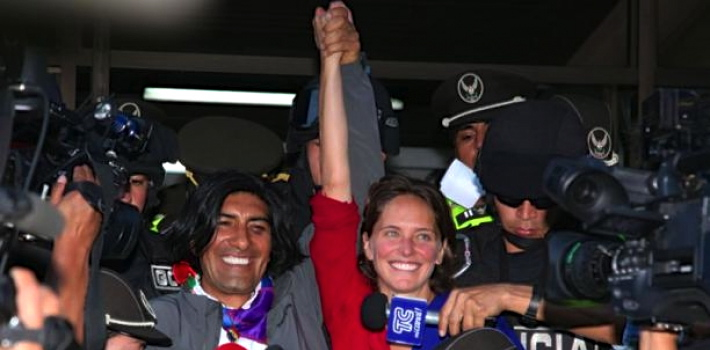 The last few months have been shaky for the socialist government of Ecuadorian president Rafael Correa. Since June, many demonstrations have taken place in different parts of the country, and a significant number of social groups, unions, and human-rights defenders have participated.
Each group has come with their own reasons to protest: disproportionate taxes on hereditary goods; legislative attempts to amend the Constitution to allow indefinite presidential reelection; restrictive legislation on NGOs that affects the right to freedom of association; oil exploitation procedures on the protected Yasuní Reserve; possible restrictions on the work of doctors and health professionals; and the application of a Communications Law that fosters self-censorship, among others.
While Correa has offered dialogue with the opposition, this has not been possible, mainly due to the reluctance of the government to change its position on most of these matters.
Among those in opposition is Carlos Pérez Guartambel, the president of the Ecuadorian Confederation of Indigenous Nationalities (Ecuariunari), who has fought for years to defend the indigenous communities' right to water in the Andean zone of Quimsacocha (Province of Azuay). He and his allies have opposed several mining projects that jeopardize the hydric system of the region, and protested against the Water Act, which never went through a consultation with the affected communities. For these activities, he has been arrested three times.
For the last two years, Pérez Guartambel marched alongside his partner, the French-Brazilian reporter Manuela Picq, a PhD graduate who has a bright reputation among scholars and journalists. Their union was recognized by the Cañari Indigenous Community in an ancestral ceremony, and to their eyes, she is officially his wife.
Manuela joined her husband and the indigenous communities that marched yet again on August 13, and in the midst of the confrontations between the demonstrators and the police, Picq and Pérez Guartambel were separated by a dozen police officers. They were seriously beaten and sent to private clinics to recover.
They were released later on, only to discover that Manuela's immigration status was being challenged by Ecuadorian authorities, and that she was facing a possible deportation. She was taken to "Hotel Carrión," an informal detention facility for people who have violated immigration laws.
At first, the Ministry of the Interior reported on its official website that Manuela was aided by the police when unidentified individuals attacked her. Later on, an amateur video showed that Picq was in fact attacked by the police members, and detained. The ministry also assured that Manuela's status was irregular, an accusation that suggested that either she had entered the country illegally, or that she had exceeded her stay. However, two days later, Manuela's visa was cancelled.
The injunction and protection actions presented by Picq's defense were not received due to mere formalities at first, and later on transmitted in a way that hardly sufficed for the expedited nature of such proceedings. Luckily, on Monday, August 17, a judge put an end to the deportation proceedings and announced that the visa cancellation was illegal. She further demanded that those responsible for Manuela's detention be investigated.
Carlos Pérez and other attorneys assumed Manuela's legal representation. Needless to say, Pérez Guartambel was drawn away from his activities as one of the leaders of the indigenous march, which destabilized the movement while the situation lasted. A very smart move, one may add, not only because it literally removed Carlos Pérez from the demonstrations, but also because it severely affected him emotionally, as he recognized in an interview for a local newspaper recently.
[adrotate group="8″]
In this context, it is easy to ascertain that Manuela's detention and attempted deportation were in fact related to her husband's activities for the defense and promotion of human rights. If so, this situation constitutes a wide array of human-rights violations: namely, the right to peaceful assembly and association, and the very right to defend human rights, which is widely recognized and protected by international law. Legal and physical retaliation against the friends and families of human-rights defenders sever their work, because they are frequently undertaken to cause fear and dissuade them from continuing with their struggle.
The lack of coordination between immigration authorities and disrespect for immigration laws in Manuela's case are not to be ignored. How is it that a non-existent or expired visa is then cancelled? And if the visa was still in force (it actually was to expire on August 25), under what grounds was it revoked?
Due process is a fundamental right, which applies also to administrative and immigration procedures. The fact that Manuela was not notified with the alleged migratory infractions held against her, violated her right to a timely defense and ultimately, to freedom of mobility.
Furthermore, how is it that that a public institution such as the Ministry of the Interior can falsely accuse a respected academic of breaching immigration laws with no proof whatsoever, and then remain unpunished? This goes to show that the honor and reputation of the people in Ecuador are at mercy of the government's propaganda apparatus, and that those who manage it are not held liable for such damages, even though the Communications Law in similar cases has proved to be merciless with the private press.
Manuela's case brought light to the situation of the people detained due to immigration infractions. These people are kept indefinitely in a so called "hotel," which in fact is an irregular detention facility where they wait for an administrative decision or deportation.
This too raises more questions: how is it that a democratic state such as Ecuador allows the existence and functioning of a facility like "Hotel Carrión" outside of the penitentiary or administrative detention system? Who is responsible for what goes on inside "Hotel Carrión"? Who are the people held in the irregular facility, and why are they kept there? Are the proceedings carried out in a timely fashion? Who represents the people held in Hotel Carrión?
While held there, Manuela described it as a sort of legal limbo, where no rights and no protection could be expected — situation that needs to be clarified, revised, and corrected, as part of the investigations that must be carried out to identify those responsible for the human-rights violations against Manuela and her husband Carlos Pérez.
María Dolores Miño is a Public International Law and Human Rights specialist. She is also a professor of the Law School at the University of the Americas (UDLA) in Quito. Follow her @LoloMino.