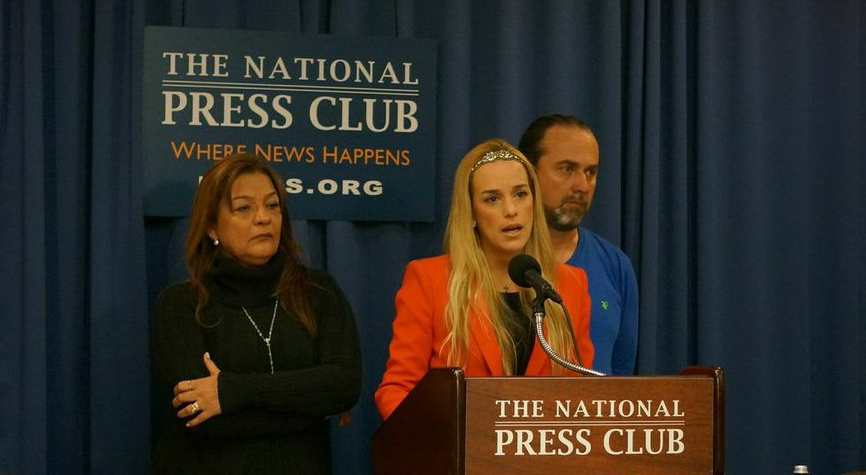 By Gonzalo Mellado
February 11 was the eve of the first anniversary of Venezuela's 2014 student protests, and relatives of victims were in Washington, DC, to make known their demands for justice. Most prominently, Lilian Tintori called for the release of her husband, political prisoner and opposition leader Leopoldo López. She also drew attention to growing unity in condemnation of the Venezuelan government, over violations of protestors' human rights and a crackdown that left 40 people dead and at least 3,000 injured.
Alongside Tintori was Rosa María Orozco, the mother of Geraldine Moreno, who was murdered by the Venezuelan National Guard. In addition, Jonny Montoya, a Caracas police commissioner and member of the ruling United Socialist Party of Venezuela (PSUV), offered a visible example of support across party lines. His brother Juancho was the first of many to be killed one year ago.
The trio gave a press conference after meeting with the secretary general of Amnesty International in London, the secretary general of the Organization of American States (OAS), and US Vice President Joe Biden.
VP Biden met today w/ Venezuelans affected by government oppression to underscore our commitment in promoting human rights around the world.

— VP Biden (Archived) (@VP44) February 11, 2015
Lilian Tintori described the talks as "fantastic meetings, which filled us with optimism and great faith. It is humanity, dignity of human rights, above all things … For the first time … the two parts of the country are together. "
Moreover, she highlighted the report by the UN Committee Against Torture, which criticizes Venezuela for high levels of impunity: of 31,096 complaints of human rights violations between 2011 and 2014, only 3.14 percent were prosecuted.
Tintori also asserted that 3,306 arrests occurred between February and June 2014. These and other incidents of unlawful detention have been acknowledged by investigating authorities, but there have been multiple procedural delays in processing cases of cruel treatment and torture during that period.
The UN Committee also noted that, out of the 185 investigations conducted by the Venezuelan Public Ministry, there have been only five indictments, and the two investigations regarding torture remain ongoing.
Tintori mentioned that there are still 61 political prisoners in Venezuela — two of them locked in basements known as "tombs," under the headquarters of the Sebin state security force.
"Once again, we ask [for] the release of political prisoners in Venezuela," she told reporters.
On Wednesday, February 18, her husband will reach one year in jail. During that time, according to Tintori, his rights have been severely violated. He went six months without visits, and five months without seeing sunlight.
In addition, guards have thrown human excrement at him through the windows and stolen his writings and his children's toys, among other abuses.
"Since we have no rule of law and have no [independent] public powers, we [need] help at an international level, and we have found it. Leopoldo is strong, firm, and convinced that Venezuela will achieve a change by the majority, [for] welfare and peace," Tintori continued.
Furthermore, Rosa Orozco recalled that February 22 will mark the anniversary of the death of her daughter Geraldine Moreno. She reminded attendees that there are no convictions in her case, and that its hearing has been deferred eight times.
She is particularly concerned about the new law that authorizes the military to use firearms against protests which, according to government officials, may turn violent.
"Tomorrow marks one year since we started the protests. We will get to the march tomorrow and won't know what could happen, because nobody has given any statement to override that decision," Orozco said.
Nonetheless, she added that she lost the fear when she lost her daughter, so she is no longer afraid of what might happen.
Meanwhile, Jonny Montoya of the PSUV emphasized the humanity and the positive reception of Vice President Joe Biden.
Despite his proximity to the government, Montoya has denounced the systematic violation of human rights since his brother was murdered on February 12, 2014.
"I think that the murderer is no longer so bad, it's the [Venezuelan] justice system," he said. "What they are doing with the death of my brother, it's been a year and there are no arrests … five civilians shot him and there are no arrests, no raids."
"As an active police member I wonder what investigation was done. Unfortunately, we have to resort to neighboring countries and other people to see if we can get justice," Montoya added.
José Miguel Insulza of OAS and Joe Biden gave no specific responses to the social and political crisis in Venezuela. However, they pledged to do whatever was within reach, so the country can recover the dialogue necessary for the government to release political prisoners and address the deaths that occurred.
This February 1, noting the interest of Biden in Latin America, Venezuelan president Nicolás Maduro accused him of orchestrating a coup d'état against the Chavista government. Maduro said the strategy would begin by discrediting Venezuelan officials to justify Maduro's ouster.
Gonzalo is a law student at the University of Chile in Santiago. He is Chile's regional director and executive board member for EsLibertad, a research assistant with the Foundation for Progress, and an intern with the Cato Institute in Washington, DC. Follow @gzlomellado.
Elisa Vázquez contributed to this article.
Translated by Rebeca Morla. Edited by Fergus Hodgson.