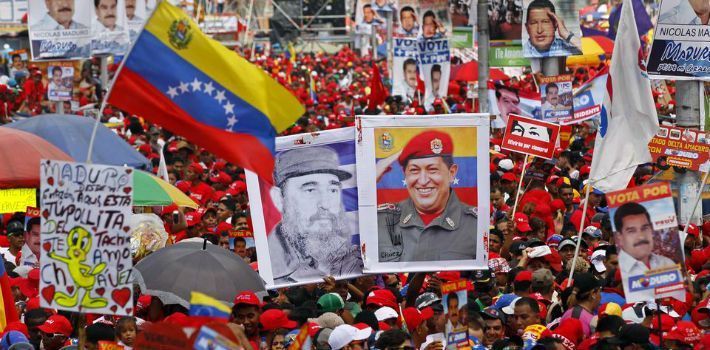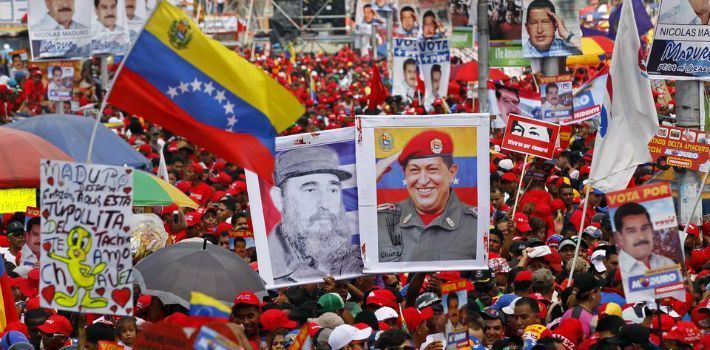 EspañolBy Ariana Guevara
In December 2007, during a visit to Cuba to sign 14 separate cooperation agreements, the late Venezuelan President Hugo Chávez repeated one of his favorite phrases: "Let us realize that we are one nation." Beyond the ideological support, this relationship has had a practical impact. In Venezuela, the influence of the Caribbean island is undeniable. Its presence is felt throughout military, politics, and education.
On December 16, Cuba's controversial involvement in Venezuela resurfaced after Ángel Vivas, a retired army general, issued a public call to create an "anti-Castro-Communist Venezuelan resistance." Earlier in February, Vivas's image circulated on news channels and social media when he defended his home, rifle in hand, against a police raid.
He was accused of encouraging the use of sharp steel cables to prevent Chavista armed militias from attacking street protests against President Nicolás Maduro. Even before then, Vivas was known for denouncing the politicization of the Bolivarian National Armed Forces (FANB) and Cuban influence in the country.
While using less radical language, another retired general has discussed the presence of Cuban military institutions in Venezuela. Antonio Rivero, who was close to Chávez, and was even his co-conspirator in the attempted coup of November 1992, monitored the issue until his resignation in 2010. In 2014 alone, Venezuela was host to about 300 Cubans belonging to the Strategic Cooperation Group, he has shared with the PanAm Post.
He also knew of the existence of 10-15 Cubans working for Venezuela's Strategic Operational Command, a body that is responsible for directing FANB operations, among other tasks. "I don't know now, but at that point [2010] Defense Minister Carlos Mata Figueroa had a Cuban advisor," Rivero added.
The presence of Cubans on Venezuelan soil is nothing new. Data collected by general Rivero — who was head of army telecommunications between 2001 and 2003 — shows that 29 Cubans entered Venezuela in 1997, a figure that rose to 138 the following year. Their apparent objective was to support Chávez's presidential campaign. Then, following a failed coup against the president in 2002, they were made responsible for the president's personal security.
Between 2,700 and 3,000 Cuban intelligence agents are in Venezuela, embedded in sectors such as the military, agriculture, finance, and petroleum refining.
In November 2008, after a period spent directing the Department of Civil Protection, the general attended an engineering course at the Military Academy, in which he came into contact with two Cuban military officials. "[That] they're attending a course is not a problem," he said.
"But then one of them says: 'From this moment, everything we talk about is confidential.' I left. How can a foreign soldier determine what's a state secret within my country? This shocked me. So I began my work," Rivero recalled.
He soon began to realize the Cuban role in the construction of defensive tunnels, which meant that foreigners knew about military fortifications. "Whether something became a military secret was in the hands of the Cubans. The location of a missile unit was determined by them. On another occasion, I went to the armory and the Cubans were helping. I took notes, names, and began to submit complaints to the general division. They told me they those were the orders from Chávez," the retired general said.
After being discharged following several agreements, Rivero — currently acting leader of opposition party Popular Will (VP) since the arrest of Leopoldo López in February — brought a complaint to the Public Ministry and the National Assembly in 2010. By way of evidence, he revealed a photograph of Cuban general Andollo Leonardo Valdés participating in defense meetings on the Colombian border.
Since disclosing this information, Rivero says he has been persecuted. In the same year, he was charged by a military court for defaming the national armed forces and revealing secret information. In 2013, he was jailed for 21 days for his alleged role in the violence that followed the presidential elections, and in early 2014 an arrest warrant was issued against him. Rivero is now in hiding.
Mounting Evidence
For Carlos Romero, a professor of international relations, the influence of the island is not only demonstrated by the presence of Cubans in military and intelligence capacities. Uniforms and military structures are also increasingly imitate their Cuban counterparts, he told the PanAm Post.
A 2007 article published by Venezuelan pro-democracy NGO CEDICE noted that the FANB's 2007-13 Strategic Development Plan began a transformation inspired by the Revolutionary Armed Forces of Cuba. Then, in 2008, further structural reforms to FANB organization were enacted, creating Strategic Regions of Integral Defense, military authorities responsible for specific geographic areas, which Rivero cites as being a direct replica of Cuban arrangements.
To the above was added Cuban interference in other government affairs, such as the creation of a national identification system. A 2011 investigation by Venezuelan journalist Adriana Rivera published in El Nacional revealed that Cuban company Albet Ingeniería y Sistemas — which in turn subcontracted multinational firm Gemalto — received US$170 million to develop electronic data systems in Venezuela.
According to the investigation, the Cuban government began to enjoy agreed access to Venezuelan databases, from which it could modify and even issue documents to citizens of other countries. Gemalto's management portfolio also includes the presidential Communications Office, and operating systems for prisons, emergency services, hospitals and police.
Cubans can also be found in other government agencies. Mariano Herrera, director of the Center for Cultural and Educational Research —  an organization with 28 years of work in the area —  recalled what happened to him in 2006. "I had two direct experiences, one in a school in Apure and the other in Anzoategui. When I went to meetings with the directors of these institutions, there were Cuban authorities," Herrera said. "I don't know for sure what they were doing, whether they were advisors or something political. "
There are further instances of of Cuban influence over education. Mabel Mundó, a researcher at the Center for Development Studies at the Central University of Venezuela, offered the example of the Robinson Mission, the literacy program from which 700,000 people have graduated since its inception in 2003. "This mission was an explicit example of the implementation of the Cuban method Yo sí puedo (Yes I Can), a hybrid of numerical and reading activities. What worries me is that Cuban techniques aren't known for their efficacy," she said.
Between September 2012 and 2014, around 1,000 Cuban doctors fled poor living conditions in Venezuela.
There have also been complaints about the Bicentennial Collection, books delivered by the Ministry of Education from 2011 to 2013 to public schools, with 35 million texts distributed to more than 6.8 million students. Javier Tarazona, president of the Teachers of Táchira, told the PanAm Post that these documents are overtly ideological. For example, one second grade social sciences textbook, in circulation until 2013, stated that Simón Bolívar, Venezuela's national hero of the Wars of Independence, was breastfed by a Cuban nurse. In 2014, a revised fourth edition omitted the claim.
"As an educator, I can report that children are being ideologically manipulated by a fallacy to feel affection and gratitude towards Cubans," said Tarazona, claiming that children are indoctrinated in a cult of personality, designed to make them revere Hugo Chávez and the supposed benefits of socialism.
Oil for Spies
Havana's grasp also reaches into government health institutions. After the signing of the Comprehensive Cooperation Agreement between Cuba and Venezuela in 2000, doctors, nurses, and consultants came from Cuba to work in the social missions. The figure has varied over the years: in 2012, there were over 44,000; but in January 2014, President Nicolas Maduro said the number reached 35,000.
In some cases, professionals have decided to flee the poor living conditions they found in Venezuela. Miami-based NGO Solidarity Without Borders reported that between September 2012 and 2014 around 1,000 Cuban doctors left Venezuela. In fact, a 2013 report on trafficking from the US State Department describes the situation of Cuban medical personnel in Venezuela as akin to forced labor: "Indicators include inadequate wages, long hours required, and threats of reprisals against workers and their families if they leave the program."
While most of these professionals come to Venezuela with the intention to comply with their medical responsibilities alone, others have additional responsibilities. General Rivero says that between 20 and 25 percent of Cubans present in the country belong to Cuban Committees for the Defense of the Revolution, created by Havana 1960 with the aim of spying on potential dissidents, among other objectives.  "According to the information," said Rivero, "Between 2,700 and 3,000 Cuban intelligence agents are in Venezuela, embedded in sectors such as the military, agriculture, finance, and petroleum refining."
Of course, all these services have a cost. In the cooperation agreement, Caracas agreed to pay Havana in oil. In 2013, according to figures by state oil company Petroleos de Venezuela (PDVSA), Cuba receives 99,000 barrels per day.
Cuban economist Carmelo Mesa-Lago highlighted in an article that Cuba enjoys preferential treatment: the island must pay half of the bill within 90 days and the rest within 25 years, at 1 percent interest. "It has been estimated that the accumulated oil debt is between 2001 and 2009 rose to between US$5 billion (24 percent of PDVSA's debt) and US$13.8 billion. Cuba then exports part of the oil received to global markets," Mesa-Lago wrote.
There are other estimates. The Association for the Study of the Cuban Economy notes that Venezuela's contributions to Cuba in 2005 corresponded to 7.2 percent of GDP of the Caribbean island; the percentage increased in 2011 to 16.7 percent. That translates to US$11.5 billion, of which US$5.4 billion was apparently allocated to the payment of doctors. However, Mesa-Lago noted that every professional would therefore earn over US$130,000 a year. "Only part of the total reaches the contracted workers. The rest goes into the coffers of the Cuban state," said Romero.
Why does Venezuela insist on maintaining a relationship with Cuba, even though it breaks the bank? Romero notes that Chávez initially felt indebted to the Cubans, because of the support Havana gave him in his 1998 presidential campaign. The Venezuelan president further admired the figure of Fidel Castro, Cuba's historic interest in exporting and controlling revolution in Venezuela from 1959. "It's Fidel's dream," Romero added.
Nevertheless, for the Venezuelan analyst, the union of Cuba and Venezuela is not dangerous in itself, as Cuba lacks the geopolitical muscle it once had. Instead, he argues, "the real impact it has lies in its influence over the Venezuelan political system."
Translated by Nelson Albino. Edited by Laurie Blair.